Iran
Iranian Speaker Warns of West's Plots to Destroy Economic Bonds among Muslims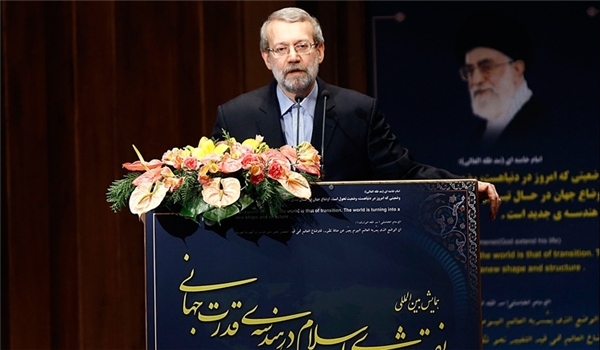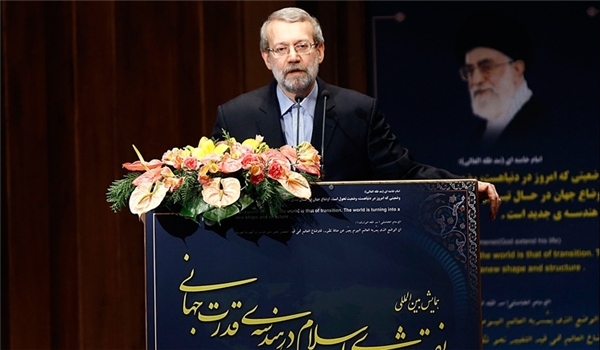 Iranian Parliament Speaker Ali Larijani warned of the western powers' plots to prevent the development of economic and trade relations among the Muslim states in order not to allow their empowerment and independence from the West.
"The West is opposed to economic bonds among the Islamic countries and despite being powerful economically, unfortunately, the Islamic countries are separated at present and have little exchanges with each other and have exchanges with the big powers, instead," Larijani said, addressing a conference in Tehran dubbed 'the Islamic World's Role in the Geometry of the World Power' on Tuesday.
He also referred to the Western attempts to prevent Islamic countries from gaining power, and said one of its instances is readily seen in their plots against Iran to deprive the country of the nuclear technology despite the fact that they know Iran is just seeking to make a peaceful use of this technology, specially due to the Fatwa (religious decree) of Supreme Leader of the Islamic Revolution Ayatollah Seyed Ali Khamenei against the production and use of nuclear weapons.
Larijani described resistance as the only way for the Muslim states to attain state-of-the-art technologies, and said, "They voice concern about Iran's missiles but has it been the West which has equipped us with missiles? The answer is no, Iran has stood on its feet and built the missiles by itself."
Washington and its western allies accuse Iran of trying to develop nuclear weapons under the cover of a civilian nuclear program, while they have never presented any corroborative evidence to substantiate their allegations. Iran denies the charges and insists that its nuclear program is for peaceful purposes only.
Tehran stresses that the country has always pursued a civilian path to provide power to the growing number of Iranian population, whose fossil fuel would eventually run dry.
Despite the rules enshrined in the Non-Proliferation Treaty (NPT) entitling every member state, including Iran, to the right of uranium enrichment, Tehran is now under four rounds of UN Security Council sanctions for turning down West's calls to give up its right of uranium enrichment.
Tehran has dismissed west's demands as politically tainted and illogical, stressing that sanctions and pressures merely consolidate Iranians' national resolve to continue the path.
The Islamic Republic says that it considers its nuclear case closed as it has come clean of International Atomic Energy Agency (IAEA)'s questions and suspicions about its past nuclear activities.
On November 24, Iran and the five permanent United Nations Security Council members sealed the six-month Joint Plan of Action to lay the groundwork for the full resolution of the West's decade-old dispute with Iran over its nuclear energy program.
In exchange for Tehran's confidence-building bid to limit certain aspects of its nuclear activities, the Sextet of world powers agreed to lift some of the existing sanctions against Tehran and continue talks with the country to settle all problems between the two sides.