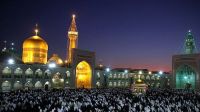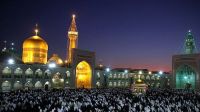 Muslims in Iran are celebrating the birthday of Imam Reza (AS), the eighth successor in the Household of the Prophet Mohammad (PBUH), with special ceremonies held nationwide, especially in the holy city of Mashhad where the Imam is laid to rest. Large crowds of Shia Muslims from across Iran and many parts of the world, particularly from neighboring countries, have travelled to Mashhad to visit the holy shrine and pay homage to the highly revered Imam, who lived from 765 to 818.
According to a Press TV correspondent, well over a million pilgrims have gathered in and around the massive complex holding the tomb of Imam Reza (AS) praying and engaging in celebratory activities on the merry occasion.
This is while Iranians in cities and towns all over the nation have been holding ceremonies in mosques, community centers and even street corners by chanting religious verses, and serving variety of sweets and soft drinks.
Most Iranian media outlets are also in a celebratory mood, intermittently interrupting the regular programs to broadcast images of the Imam's holy shrine and celebrations underway in Mashhad and other cities.