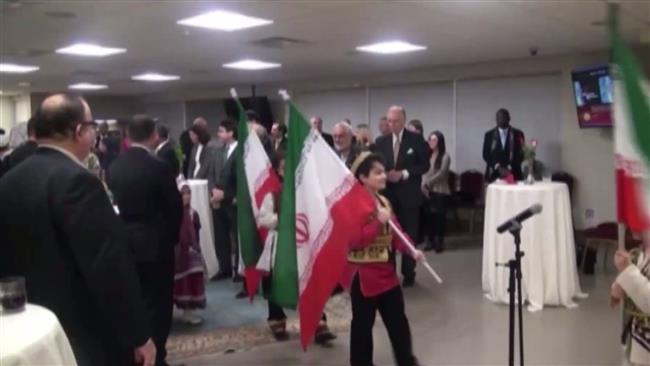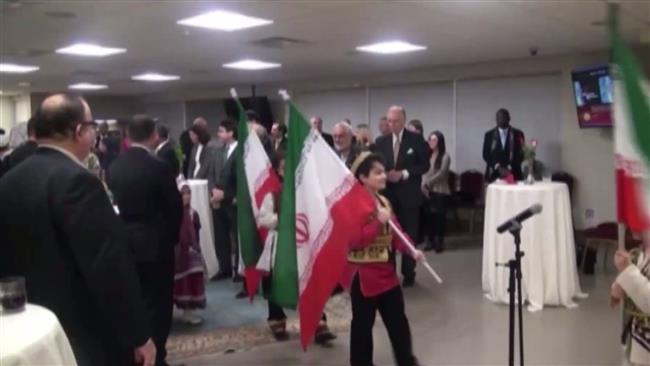 Iranian expatriates, diplomats and foreign dignitaries have held a ceremony in the US capital, to celebrate the 37th anniversary of the Islamic Revolution's victory.
The ceremony was held in Iran Interests Section's new building in Washington, DC, on Thursday.
The participants joined millions of Iranians who took to the streets of various cities in the country, to hail the nation's resilience in the face of US hegemony, praising Tehran for its outstanding achievements over the past 37 years.
The event marked the victory of the 1979 Revolution, led by late Imam Khomeini, which put an end to the monarchical rule of the US-backed Pahlavi regime.
Oman ambassador to US Hunaina Sultan Ahmed al-Mughary was among foreign officials who attended the ceremony.
In Tehran, people from all walks of life joined officials to descend on the iconic Azadi Square where President Hassan Rouhani addressed the nation.
Addressing a huge gathering at the iconic venue, Rouhani said 37 years after the Islamic Revolution, the world powers are now "admitting mistakes" in dealing with Iran.
"Today…the world's public opinion has completely accepted that the propaganda campaign of the Zionists and the global arrogance of the US against the Iranian nation has been a lie and devoid of truth. The Iranian people are a peace-seeking people," he added.
Rouhani referred to the recent landmark nuclear deal, that went into effect last month, as a sign that the world powers are now "admitting mistakes" in dealing with Iran.
"They are now willing to interact [with Tehran] and have good relations with the great Iranian nation," he continued.
On the sidelines of the rallies replicas of the indigenous Simorgh (Phoenix) satellite carrier and the long-range Emad ballistic missile were put on display as the symbol of Iranian scientific and defense achievements.
More than 5,200 journalists from Iran and other countries covered the nationwide rallies.