Iran
Middle East
Iran's Army Commander Warns Foreign Forces against Fomenting Tensions in Region
Commander of Iran's Army Major General Abdolrahim Moussavi warned the trans-regional states which have deployed their forces in the region against stirring insecurity and making stupid moves.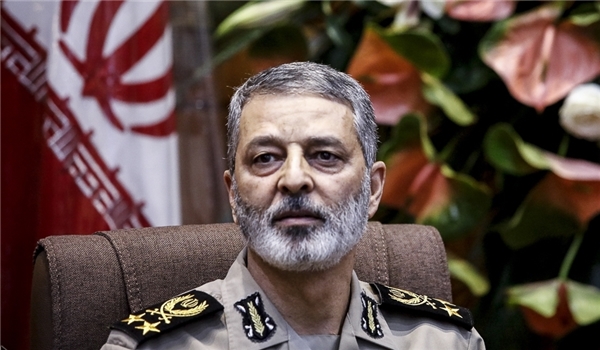 "We warn the foreigners that if they foment insecurity and tension in the region, they will be put in the most insecure situation," Moussavi said, addressing a gathering in the Central city of Qom on Friday night.
He also said that Iran's active resistance has defeated the US strategy of maximum pressure against the Iranian nation, and said, "Today, the US has grown frustrated and stranded strategically."
In relevant remarks on Thursday, Commander of the Islamic Revolution Guards Corps (IRGC) Major General Hossein Salami underlined Iran's high defense power, warning the enemies of the country's crushing response to any aggression.
"Iran's military power has been tested several times and the enemies are just aware of a small part of the reality of our defense power but, meantime, they know that the Islamic Republic of Iran's military and security power cannot be infiltrated and defeated," General Salami said after visiting Iran's Farsi Island in the Persian Gulf.
He noted that Iran has developed its equipment and defense power based on the strategy of overcoming the arrogant trans-regional powers, and said, "We are a tested power in the region and therefore, they (the enemies) will come to see our real power only in the battlefield."