Iran
Middle East
Palestine
Syria
Iran's envoy to UN: 'israel,' terrorists 'evolving into coalition'
Iran has warned that Israeli occupiers, who are already providing support for terrorists in Syria, may build a coalition with militants if their threat is not dealt with in a proper way.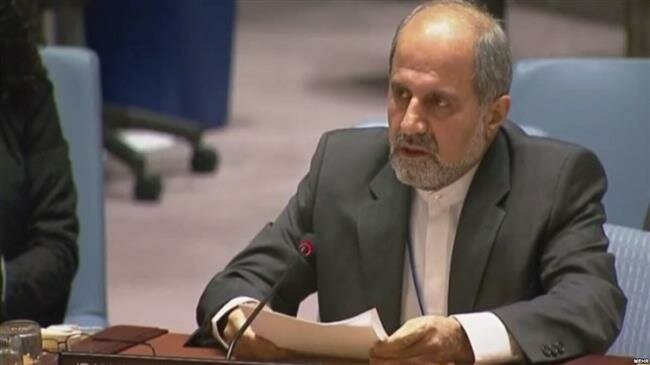 The warning by Iran's chargé d'affaires to the UN Es'haq Al-e Habib came in his address to a Security Council meeting on "threats to international peace and security caused by terrorist acts: combating the financing of terrorism."
"If unchecked, terrorists and occupiers will evolve into a coalition. In fact, it has already happened. Israel supports terrorists in Syria in different ways, including healing the wounds of their terrorist sisters and brothers," he went on to say.
British newspapers have reported on Takfiri terrorists being transferred to Israeli hospitals for treatment since the beginning of war in Syria. According to documents from Israeli hospitals, Israel's army has paid millions of dollars for the treatment of terrorists injured in Syria.
Back in January, the Israeli military confirmed long-running reports of its collaboration with militant groups operating against the Syrian government, admitting that it had provided weapons to them.
The Israeli military finally confirms long-running reports of its collaboration with the militants operating against the Syrian government.
In an interview with the British daily The Sunday Times, Lieutenant General Gadi Eizenkot, the army's outgoing chief of staff, said the Israeli regime had supplied "light" weapons to militant groups operating in Syria's Golan Heights for "self-defense."
It was the first time Tel Aviv acknowledged supplying arms to militants fighting in Syria, after numerous reports emerged of the discovery of Israeli-made weapons, military equipment, and medicine during clean-up operations by the Syrian army.
In September, the Jerusalem Post removed an "explosive report," which revealed the Israeli military had supplied weapons and ammunition to militants in the Golan Heights. The paper later told Russia's RT that the report had been taken down at the request of the Israeli army's "military censor."
The Israeli regime is reportedly arming at least seven different terror groups in Syria's Golan Heights, including the Fursan al-Joulan militant outfit.
The Golan Heights are part of the Syrian territory occupied by the Israeli regime since 1967. The occupied land has once again come under the spotlight after US President Donald Trump  recognized the "Israeli sovereignty" over the territory.