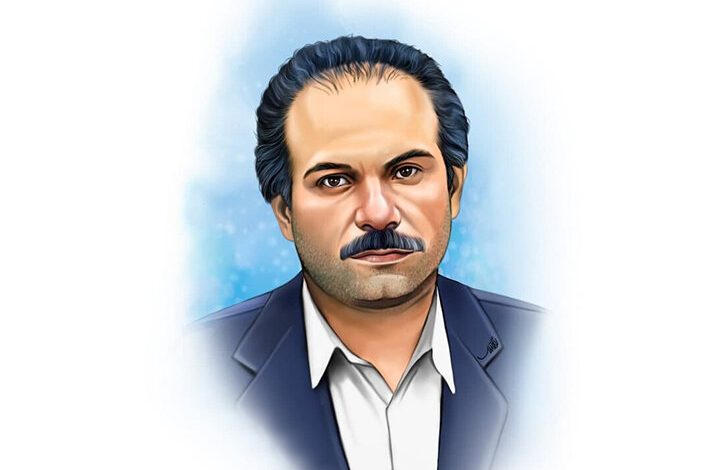 "I used to accompany Massoud to the end of the corridor. He drove his car out of the yard. He came back inside to get his lunch box from me. The car door and the door to the yard were [both] open. He picked up his lunch box and went out. He looked back at me from the threshold of the door and said goodbye. As soon as he closed the door to the yard a bomb exploded. At that moment I thought perhaps it was an earthquake because shards of window glass were raining down on my head. My daughter came out of her room crying and asked, 'What happened?' My eyes were fixed on the door. The door had been knocked down due to a strong explosion and I saw smoke rising from the car. I just told my daughter, 'Your daddy…' I didn't think about it being a bomb at all. We ran out hurriedly. I saw him sitting at the side of the car. His two hands were on the side step of the car and his forehead was between his two hands as if he was in prostration. He was perfectly healthy from behind. I called him several times, 'Massoud, dear Massoud…,'" his wife explained.
Massoud was born on March 23, 1961 in one of the villages around Tehran. From an early age, he was very intelligent and talented. He used to walk a long distance every day to get to school. But he did not abandon helping his family and he worked in agriculture with his father. Some of his outstanding features were his cheerfulness, good temper and good humor. All of these had made him a popular, lovable person.
After graduating with a Bachelor's Degree in Physics, he took the entrance exam for the Master's program and was accepted into the Sharif University of Technology.[1] He also received offers for scholarships to study abroad. His wife insisted that he go abroad to study, believing he could advance more there. But he refused and said, "I have done some research about this. The professors I want to study under here are no less than the professors there. What is the reason for us to go abroad to continue our education?" He was one of the Iranian scientists who had studied all of the levels of his higher education inside Iran relying on domestic facilities and capabilities.
Despite being a university professor and having published numerous scientific articles in prestigious domestic and foreign journals, he never considered himself to be superior to others. He was so humble that whenever someone in his family would call him "doctor," he would respond, "Doctor, no. That title belongs to the workplace. I am just Massoud." His wife related, "After his education, he worked at the Theoretical Physics Research Center. That center had a gardener named Ali Agha. One day when Doctor came home, I saw that a large number of walnuts were spread out in his car. I asked him where these walnuts had come from and why they were spread out like that. He said that when he was returning home from the center, Ali Agha had asked him to roll down the car window. When he did this, Ali Agha threw these walnuts into the car through the window and said that these walnuts were all for him because he felt he was very different. Massoud had said, 'No, I am like the rest.' Ali Agha had replied, 'But you are the only doctor here who greets me first. He respected those who were older than himself very much too. If he saw one of the doctors behaving improperly, he would instruct them to correct their behavior."
Massoud knew the methodology for carrying out scientific studies very well. He was not ashamed to ask questions and he always sought to increase his knowledge. In addition to physics, he was knowledgeable about philosophy and cosmology as well. Fereydoun Abbasi, the head of the Atomic Energy Organization of Iran at that time, said the following about him, "Sometimes students would sit in my room and engage in discussions with each other. He would sit with them, listen and ask questions as well. He met Dr. Rezainejad here. He had very good scientific discussions with him, and in some cases, he would raise objections to him." He knew mechanics in the field of physics and that is why he was actively and effectively involved in the initial studies for uranium enrichment, centrifuge design and construction.
Ali Mohammadi was happy to be a teacher and wanted to instruct students who could help the country to advance. "He taught students for the International Physics Olympiad for two or three years, but then he resigned," said his wife. "I asked him, 'Why did you resign?' He answered, 'We select the best, then we proudly hand them over to United States They will go to build the United States and then we will be left empty handed. We must train them morally before we teach them like this. They should know that if their talent has flourished, it is because of the taxes that the people have paid as well as the facilities that this country has provided for them. They must feel this.' This is the reason why he stopped cooperating with the [Iranian] Physics Olympiad team."
SESAME stands for Synchrotron-Light for Experimental Science and Applications in the Middle East. This is a project to build a synchrotron radiation source in the Middle East, an accelerator that can generate intense light or electromagnetic radiation. This project is being carried out in the city of Allan, Jordan. Some of its member countries include: Iran, Cyprus, Bahrain, Egypt, and others. Dr. Ali Mohammadi and Dr. Shahriari were the scientific representatives from Iran in this project. During his last visit to Jordan, Dr. Ali Mohammadi promised that the project would be completed sooner. He was trying to gain the necessary expertise in this field to be able to pursue some of the work inside Iran. However, his assassination prevented these efforts from coming to fruition… .
Two days after the assassination of Martyr Ali Mohammadi, the website of the Zionist regime's Ministry of Foreign Affairs conceded that in Israeli scientific circles he was a well-known Iranian nuclear scientist and university professor. According to that site, the assassination of Iranian nuclear scientists was part of the Western services war in the field of the nuclear program and related negotiations. Although Dr. Massoud Ali Mohammadi was not the top person in Iran's nuclear program, he was a top person in the country in terms of his faith, courage and independence. He was a person whom when he decided to do something, nothing could stop him and he would not give up until he reached his goal. He was cowardly assassinated and martyred on January 12, 2010 when a bomb exploded in front of his home as he was leaving for work.
---
[1] The Sharif University of Technology is among Iran's top, most prestigious universities in technology and science. It was established in 1955 and is located in Tehran.
Source: Khamenei.ir