Iran
Middle East
Iran's FM, Ansarullah Official Discuss Yemen's Developments
Iranian Foreign Minister Mohammad Javad Zarif and Spokesman for Yemen's Ansarullah Movement Mohammad Abdul Salam in a meeting in Muscat discussed the latest developments in Yemen.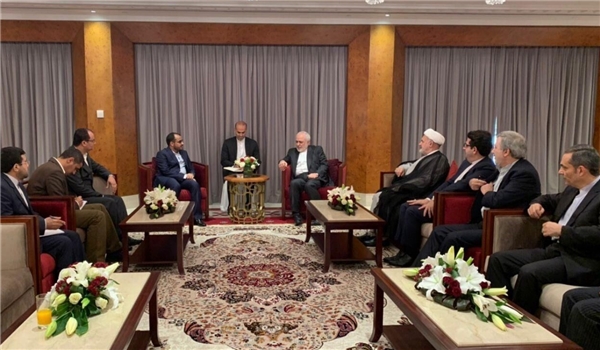 The Iranian foreign minister underlined that Yemeni-Yemeni dialogue is the only solution to the Saudi-led crisis in Yemen.
In relevant remarks in September, Iranian Foreign Ministry Spokesman Seyed Abbas Mousavi stressed his country's continued support for the Yemenis against the Saudi-led coalition.
"Iran supports the legal government of Yemen against the aggressors. Iran has always supported the Yemenis spiritually and politically," Mousavi told reporters in a press conference in Tehran.
Asked about Iran's position on Yemenis' attacks against Saudi Arabia, he said, "In our view, what the Yemenis do are defensive measures."
Mousavi also underlined that resolution of the Yemen crisis depends on acceptance of ceasefire and halt to attacks on Yemeni civilians.
Also in September, Iranian President Hassan Rouhani dismissed allegations about Iran's involvement in Yemenis' attacks on the Saudi oil installations, and said, "Iran wants friendly relations with its Southern neighbors."
President Rouhani also defended the Yemeni people's right to respond to aggressions against their country.
He underscored that Iran never wants clashes in the region, and said, "We should know that the Yemeni nation has not been the starter of the conflict, but Saudi Arabia, the UAE, the Americans, certain European states and the Zionist regime have launched a war in the region and destroyed Yemen."