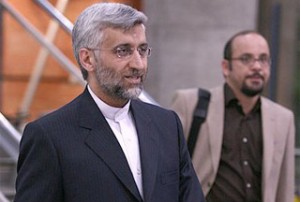 Iran's top nuclear negotiator has lashed out at world powers for violating the nuclear Non-Proliferating Treaty (NPT) by remaining in possession of atomic warheads.
"According to article VI of the NPT, nuclear powers must be disarmed and no country must be allowed to have atomic weapons," Saeed Jalili said in a meeting with Japanese nuclear experts in Tokyo on Tuesday.
"Nuclear weapons are completely illegitimate. So, in international relations countries must not be given supremacy based on their military atomic powers," he added.
Jalili said while world powers continue to violate the NPT, despite having signed the treaty more than four decades ago, Iran has stayed true to all the commitments it has made in connection with the NPT.
The senior diplomat is currently on a visit to Japan, a trip which includes tours of the city of Hiroshima and the Kashiwazaki-Kariwa Nuclear Power Plant — the largest peaceful nuclear facility in the world.
The Japanese Prime Minister Yukio Hatoyama has described the tours as an important part of Jalili's visits.
Hatoyama made the comment in a Tuesday meeting with Jalili, where he also touched upon Japan's expertise in providing nuclear power plant safety and building peaceful atomic facilities.
For his part, Jalili also pointed out that Tehran and Tokyo share a common perspective on nuclear disarmament.
"The campaign for disarmament and non-proliferation is one of the main areas where Tehran and Tokyo interact on the international scene," he said during the Tuesday meeting.