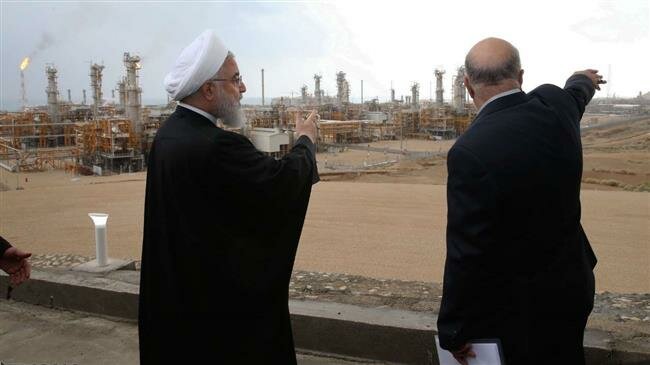 The first shipment from phase 13 of South Pars, including 300,000 barrels of gas condensate, has been delivered for export, operator of the phase which was inaugurated Sunday has said.
According to Payam Motamed, the delivery was made on March 11 prior to President Hassan Rouhani's inauguration of phases 13, 22, 23 and 24.
The $5 billion refinery for phase 13 had already become fully operational, but it was officially inaugurated by Rouhani along with another $50 billion refinery for phases 22, 23 and 24.
Each plant has a capacity to process 56 million cubic meters of gas per day and convert it to LPG, ethane, condensate and sulfur worth $5.5 billion a year at the going market prices, Shana news outlet said. The revenue, it said, will account for 2 percent of Iran's GDP of some $427 billion.
With their launch, Iran's daily gas production will be surpassing that of Qatar with which it shares the offshore field, Iranian media reports have said.
The launch will also free up new capacity for exports as Iranian supplies tighten amid rising domestic demand after Persian Gulf Star Refinery came online last month.
South Korea was the biggest client of Iranian condensate, importing 300,000 barrels per day (bpd) of the ultra light oil on top of 100,000 bpd of crude oil before the US imposed sanctions on Tehran in November.
On Tuesday, South Korea's Yonhap news agency said the East Asian country more than quadrupled its imports of Iranian crude oil in February from a month ago, nearing levels before the sanctions.
Iranian condensate took up 51 percent of Seoul's total condensate imports during the first quarter of last year, it said.
Asian customers favor Iran's South Pars condensate for its rich naphtha yield, a stable supply and price competitiveness.
Rouhani said Sunday the new inauguration dealt a blow to the US sanctions which are foremost aimed at crippling Iran's lifeline oil industry.
"Today is a very auspicious day for the Iranian nation, which has dealt strong blows to enemies, because they thought that by imposing sanctions, they would be able to stop all our plans and advances," he said in the coastal city of Kangan.
Rouhani described sanctions as "a crime against humanity," saying "Americans did not want us to inaugurate any important projects during the current year, but we made all projects operational on schedule."
Iran has divided development of South Pars to 24 onshore and three offshore phases. Minister of Petroleum Bijan Zangeneh said on Saturday that Iran expects to operate all the 27 phases by next March.
Iran had awarded development of phase 11 to a consortium led by Total, but the French company left the project after the US threatened to impose sanctions on companies that do business in the country.
When Total left, China National Petroleum Corp (CNPC) was to take over according to the contract. Zangeneh said talks are continuing with CNPC.
Some 400 Iranian companies have been taking part in the development of the South Pars gas field through supplying equipment to related projects.
On Tuesday, Shana said the implementation of remaining projects in South Pars has been delegated to Iranian consortia consisting of contractors, consultants and builders who are utilizing their maximum power and expertise.