Iran
Middle East
North America
Iran's SNSC Secretary Offers Proposals to Confront US Hybrid Threats
Secretary of Iran's Supreme National Security Council (SNSC) Ali Shamkhani called on independent states to stop the US-motivated economic terrorism monster, raising proposals on how to confront Washington's hybrid threats against the stability and development of other countries.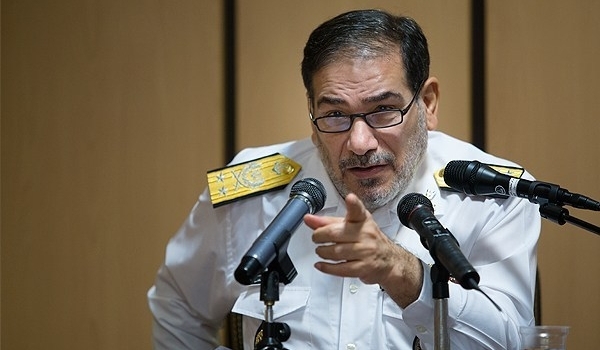 Shamkhani made the remarks, addressing the 10th International Meeting of High Representatives for Security Issues in the Russian city of Ufa on Tuesday.
His proposals included countering the threats "that have targeted the national security, stability and development of countries", including joint efforts to free the global economy from the monopoly of dollar, resistance against interference, bullying and excessive economic demands by the US, non-recognition of and confrontation against the US sanctions against other countries by holding an international meeting among the states which oppose Washington's unilateral sanctions and devising permanent mechanisms to confront them, and joint assistance to the countries which are under aggression by new security threats, specially the US administration's intervention to overthrow the current Venezuelan government.
Shamkhani warned that the US has destabilized the international monetary and banking system by its unilateralism and sanctions and has turned the Treasury Department into a war CentCom, noting, "Such a behavior by the US can be named nothing, but economic terrorism."
"It is necessary for the independent world states to stand against and stop this wild monster by creating multilateral mechanisms and break the US hegemony over the global financial system in the mid run," he said.
His remarks came after a senior Iranian legislator announced that his country and 25 other states which were suffering the US sanctions would set up a club to closely cooperate to confront the embargos.
"The Americans' measure against the Islamic Republic of Ian is an anti-humane and anti-human rights measure. We want to establish a club to confront sanctions based on the information we have about the 25 countries which are under the US sanctions with different methods," Chairman of the parliament's Fraction to Confront Sanctions Mohammad Ali Pourmokhtar told FNA on Tuesday.
He added that the aim of the club would be confrontation against sanctions and taking coordinated steps through cooperation.
"It was decided that the 25 countries will take common steps through diplomatic trafficking and form a united front against the US measures," Pourmokhtar said.
Iran, China, Russia, Turkey, Venezuela, Cuba and North Korea are among the large countries which have been hit by the US cruel sanctions.