Iran
Iraq
North America
Iraq can mediate between Iran, US: Official
A senior Iraqi Shia cleric has warned about the negative consequences of tension between Tehran and Washington for the region, saying that Iraq can play a positive role in controlling the situation.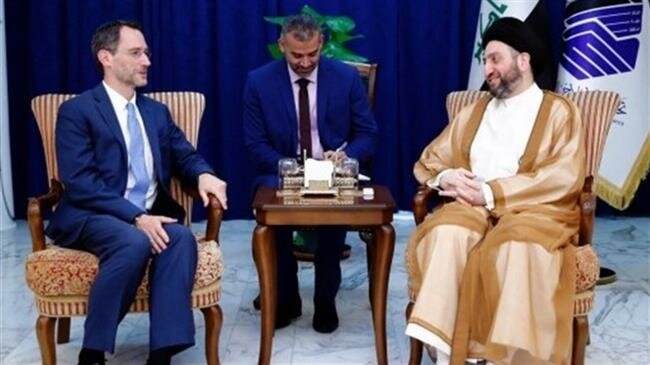 Ammar al-Hakim, the Leader of the National Wisdom Movement, made the remarks in a Sunday meeting with Joey Hood, the Chargé d'affaires of the US Mission in Iraq, amid heightened tension between Tehran and Washington.
During the meeting, al-Hakim described the escalation of tension as "worrying", saying that such tensions endanger the security and stability of all countries in the region.
He also hailed the positive signals recently sent by the US for bilateral talks with Iran, and said, "These comments must serve as an introduction to achieving appropriate solutions and keeping the regional nations distant from war and blockade."
The senior cleric referred to his warms ties with both Iran and the US, and said he can play the role of a mediator to get the two sides' stances closer to each other and end the current crisis.
Also on Sunday, Iraqi lawmaker Hassan Fadas said in an interview with Baghdad Today that "Iraq played the role of mediation, and is still communicating with US and Iranian, to bring the views closer, and it is necessary to communicate with neighbors on this side."
"Iraq is capable of influencing the American decision, and being an element of calm and embracing any possible meeting to prevent war, which could have catastrophic consequences for Iraq and the region in general," he said.
Earlier this month, al-Hakim had urged the Iraqi government to adopt what he described as a responsible position to prevent a "tragedy" and act as mediator between Tehran and Washington.
'Iraq won't stand idle if US steps up anti-Iran campaign'An influential Iraqi leader has warned that the country will "not stand idle" in the face of US' anti-Iran plot.
Meanwhile, Iraqi Prime Minister Adel Abdul-Mahdi will pay his first official visit to Qatar on Monday, where he is going to discuss the Iran-US tension and ways to ease the conflict.
"Abdul-Mahdi will discuss with Emir Tamim bin Hamad al-Thani … the developments currently taking place in the region and the need to unify positions and move to create ways to ease the conflict and to find a ground that would endanger the danger of all," a source said Sunday.
The visit comes shortly after a Katyusha rocket that crashed inside Baghdad's Green Zone where many foreign embassies are located.
All US bases in Iraq have been put on standby amid reports that the rocket has hit an area close to the US embassy.
Katyusha rocket hits Baghdad's Green ZoneA Katyusha rocket has fallen inside Baghdad's Green Zone near foreign embassies without causing any casualties.
"A low-grade rocket did land within the International Zone near the US Embassy and the JOC (Joint Operation Center). There were no casualties or significant damage; no US-inhabited facility was impacted," the US State Department said in reaction to the incident.
"We are in close and continuing contact with senior Iraqi officials regarding this incident and investigating the circumstances. At present there are no claims of responsibility," it added.
"As noted, there have been no claims of responsibility and no US-inhabited facility was struck. But, we take this incident very seriously. We have made clear over the past two weeks and again underscore that attacks on US personnel and facilities will not be tolerated and will be responded to in a decisive manner," the State Department said.
It also said the US "hold Iran responsible" if any such attacks are conducted by its allied forces and their elements in Iraq, and "will respond to Iran accordingly."