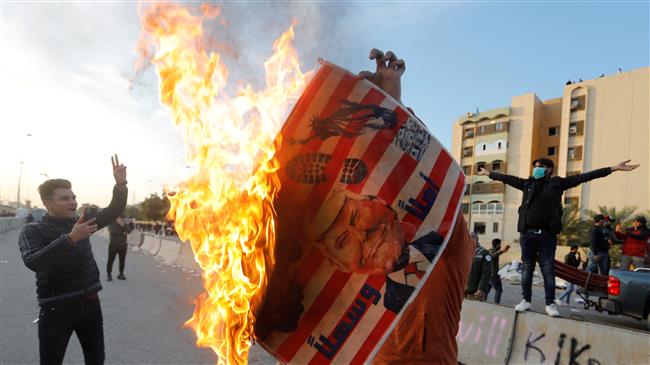 A senior commander of Iraq's Popular Mobilization Units (PMU) says it is time for an Iraqi response to the recent US assassination operation on the Arab country's soil, and that the reaction will be "no less than in size" than Tehran's missile strikes on two American bases in Iraq.
Qais al-Khazali, the leader of Asa'ib Ahl al-Haq movement, a subdivision of the PMU or Hashd al-Sha'abi, took to Twitter on Wednesday to vow vengeance for the blood of the resistance group's second-in-command, Abu Mahdi al-Muhandis, who was assassinated in a US drone strike on Friday along with senior Iranian commander Lieutenant General Qassem Soleimani and their companions in Baghdad.
"The initial Iranian response to the assassination of the martyred commander Soleimani has happened. Now it is time for the initial response to the assassination of martyred commander Muhandis," he tweeted.
Khazali noted that Iraq's response will match the strikes carried out by Iran in scale and proportion.
"And because Iraqis are brave and zealous, their response will not be less than that of Iran's. That is a promise," Khazali said.
Iran launched ballistic missiles at two Iraqi bases used by American forces early Wednesday in retaliation for last week's bloody drone raids.
Earlier, Seyyed Mahdi Tabtaei, deputy secretary-general of Asaib Ahl al-Haq, told Iraq's Arabic-language al-Ahd news website that the Americans had thought that by assassinating General Soleimani, the Iranian and Iraqi peoples would forget him, but that they were wrong and that his martyrdom had, in fact, served to unify the two nations.
The Iraqi official said, "We will not simply settle for the expulsion of US forces, but also demand sanctions on all American goods and closure of the American Embassy."
Tabtaei, meanwhile, cited Ayatollah Khamenei as saying, "Our response will be decisive," adding, "The response will be delivered by the Islamic Republic, resistance groups, and Hashed al-Sha'abi (PMU)."