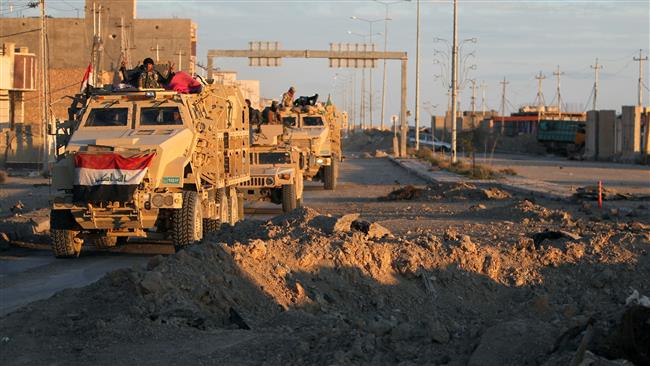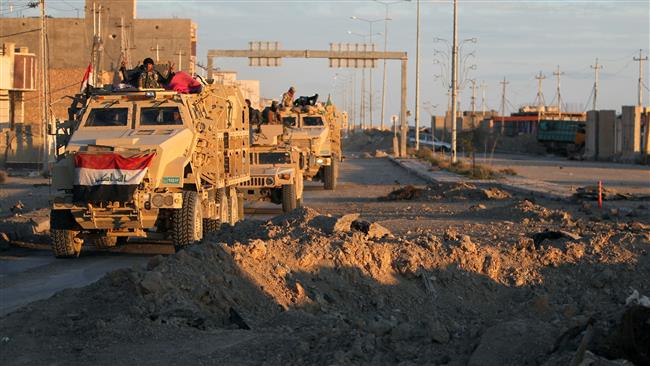 More than a hundred members of Daesh Takfiri militant group have been killed when Iraqi government forces carried out a number of clean-up operations against the terrorists across the crisis-stricken Arab country.
On Tuesday, the 76th Infantry Regiment of the Anbar Operations Command thwarted a Daesh offensive against Zankurah district, located west of Anbar's provincial capital city of Ramadi, killing 14 of the extremists and destroying two vehicles rigged with explosives in the process, Arabic-language al-Sumaria satellite television network reported.
Iraqi troopers also killed two Daesh terrorists, injured three others and destroyed a militants' hideout in the city of Husaybah, situated seven kilometers (4.5 miles) east of Ramadi.
Additionally, Iraqi bomb disposal units cleared seven booby-trapped houses, and defused 25 explosives-laden tankers plus 15 improvised explosive devices in the Sura area of Anbar Province.
They also cleansed 16 roads in the Albu Risha area, located in the northwestern outskirts of Ramadi, of explosive devices.
Tens of Daesh Takfiris were also killed and 30 others wounded as Iraqi government forces mounted an operation in Albu Shajal district east of Ramadi.
A number of militant commanders, identified by the noms de guerre Abu Omar al-Shishani, Abubakir al-Iraqi and Abu Ja'far al-Mohammadi, were among the slain terrorists.
Separately, Iraqi military aircraft carried out a precision strike against terrorist positions in the Hamrin Mountains area of northeastern Iraq, killing ten Daesh members.
Iraqi warplanes bombarded a Daesh base in al-Asfar village, east of Salahuddin's provincial capital city of Tikrit, as well. At least 18 Takfiri militants were killed in the aerial attack.
Dozens of Daesh terrorists were also killed in army operations in other parts of Iraq.
There have been no reports of the casualties among the government forces.
Gruesome violence has plagued the northern and western parts of Iraq ever since Daesh Takfiris launched an offensive in the country in June 2014, and took control of portions of Iraqi territory.
The militants have been committing vicious crimes against all ethnic and religious communities in Iraq, including Shias, Sunnis, Kurds, Christians and others.
Iraqi army soldiers joined by fighters from allied Popular Mobilization Units are seeking to win back militant-held regions in joint operations.