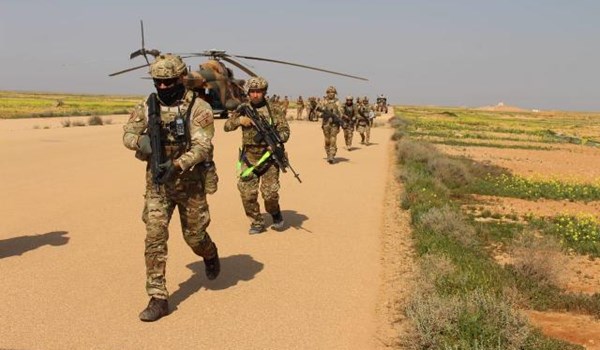 Iraqi forces are still on alert to prevent infiltration of ISIL militants from Syria even after the Syrian Democratic Forces declared that they have annihilated the terrorist group completely.
Iraq's Arabic-language al-Mada newspaper quoted a security source as saying on Wednesday that the Iraqi forces are still on alert in the Western parts of the country at the borders with Syria.
He added that over 20,000 Iraqi forces have been sent to the Western borders in the past 3 months, noting that tens of ISIL terrorists have hidden in a several-kilometer-long tunnel dug from the town of Baqouz in Syria to Baqouz in Iraq near al-Qa'em region.
The SDF claimed last Saturday that the ISIL had no more presence in Eastern Euphrates after the former's control over Baqouz in Eastern Deir Ezzur.
Also, last Friday, the White House and US President Donald Trump announced that Syria was now free from the ISIL.
White House Press Secretary Sarah Huckabee Sanders told reporters that the terror group's territorial rule had been "100 percent eliminated" from Syria, while showing a map to reporters that she said displayed the eradication of ISIL's so-called caliphate over the last two years, in what was viewed as an attempt to give the US president credit for the "defeat" of the ISIL.
Later in the day, Trump took to Twitter and said the ISIL no longer held any territory in Syria.
This is while reports in the past few months said that the US is relocating the ISIL from Syria to Iraq and Afghanistan.