Iran
Iraq
Middle East
Palestine
Iraqi official rejects zionist army chief's seditious claims on chaos, Iran role
An Iraqi official has dismissed recent claims made by the Israeli military chief against the Arab country's government and neighboring Iran, saying such "incorrect" claims are actually meant to divide the two nations.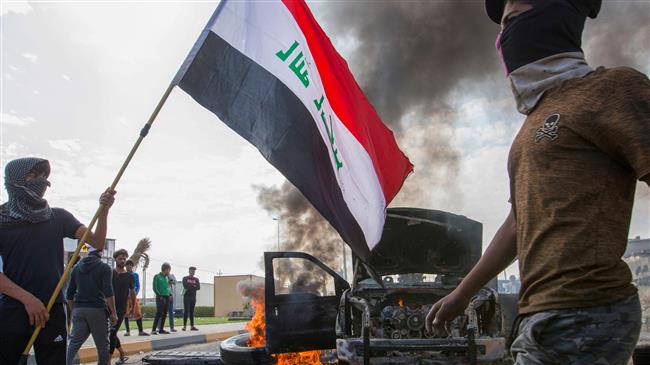 Speaking on Wednesday, Israeli Army Chief of Staff Lieutenant General Aviv Kochavi claimed the Quds Force of the Islamic Revolution Guards Corps (IRGC) is smuggling advanced weapons in "ungoverned" Iraq, adding that this is something Tel Aviv "can't allow" to go on.
In response, Hassan al-Kaabi, the head of the Badr Organization's parliamentary bloc, said Iraq has a government backed by its people, security forces, army, police and the Popular Mobilization Forces or Hashd al-Sha'abi.
Kochavi's stance on the Iraqi government is "incorrect and politically motivated," said Kaabi, adding that the regime is bent on "creating sedition and finding an excuse to infiltrate into the Iraqi territory."
Israel is said to be an instigator of the current unrest gripping Iraq, where street anti-government protests have taken a violent turn, with some participants vandalizing public property and opening fire on demonstrators.
US, Israel involved in killing Iraqi protesters: Asaib leaderThe leader the Iraqi Asaib Ahl al-Haq group says Washington and Tel Aviv regimes are members of "a third party" that has been behind many deaths during the recent unrest.
Additionally, Israel has several times conducted airstrikes on Iraq targeting positions held by Hashd al-Sha'abi, as umbrella paramilitary group that has actively cooperated with the national army in sweeping counter-terrorism operations.
On the contrary, Iran has helped Iraqi Armed Forces reverse Daesh's gains and ultimately liberate their entire homeland from the Takfiri terrorist group. The aid was provided on Baghdad's request.