Iraq
North America
Iraqi officials, scholars protest NATO plan to increase troops in Iraq eightfold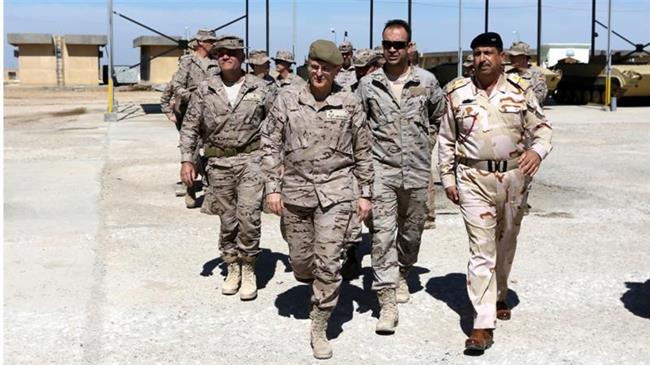 Iraqi officials and religious scholars have lambasted NATO Secretary General Jens Stoltenberg's latest remarks that the US-led military alliance is planning to significantly increase its forces in the Arab country, describing the measure as unacceptable and unjustified.
Amer al-Faez, a member of the Iraqi Parliament's Foreign Relations Committee, said on Friday that "the increase in the number of NATO forces in Iraq is unjustified," stressing that the country "does not need any foreign forces."
"Iraqi security forces are capable of deterring any [act of] aggression against the country, and they have proven such a fact during the war against Daesh [Takfiri terrorist group]," Faez added.
The Iraqi legislator noted, "Therefore, I do not see any need for the presence of any foreign troops, either from NATO or other forces [on the Iraqi soil]."
"The parliament will inquire the government about its request for an increase in the number of NATO forces, and the reasons why it has circumvented the legislature in this regard," Faez pointed out.

Stoltenberg told reporters at the conclusion of a two-day virtual NATO defense ministers meeting on February 18 that the Western military alliance will expand its mission in Iraq, claiming that the move is intended to "fight terrorism and ensure that Daesh Takfiri terrorists would not re-emerge."
"The size of our mission will increase from 500 personnel to around 4,000 and training activities will now include more Iraqi security institutions and areas beyond Baghdad," Stoltenberg said.
"Our presence is conditions-based and increases in troop numbers will be incremental," he added.
The Union of Muslim Scholars in Diyala has also dismissed NATO's announcement that it will expand mission in Iraq.
"Any increase in the number of NATO soldiers in Iraq is unacceptable, and there is no justification for such a move, especially since our country has large forces capable of thwarting any terrorist attack that would undermine the security of people," the union's head, Jabbar al-Ma'mouri, told Arabic-language al-Maalomah news agency on Friday.
He added, "The NATO decision has a multi-faceted agenda, one which is an attempt to occupy Iraq by means of an international alliance formed by (the United States of) America."
Ma'mouri called on the Baghdad government to clarify its position on the recent NATO announcement because the matter is unacceptable to Iraqi people and would likely create tensions.
On Saturday, Iraq's National Security Adviser, Qassim al-Araji described NATO's plan to increase the number of its troops in the country as advisory.
"The North Atlantic Treaty Organization (NATO) is working in Iraq with the consent of the government, and is coordination with it. Its mission is advisory, training and non-combat," he wrote in a post published on his Twitter page.
حلف الناتو يعمل مع العراق و بموافقة الحكومة العراقية وبالتنسيق معها، ومهمته استشارية تدريبية وليست قتالية..
نتعاون مع دول العالم، ونستفيد من خبراتها في المشورة والتدريب، لتعزيز الأمن والاستقرار و لا اتفاق عن اعداد المدربين . — قاسم الاعرجي (@qassimalaraji) February 19, 2021
Araji added, "We are cooperating with countries around the world and using their consultative and training experience to strengthen security. No agreement has yet been reached on the number of consultants."
Anti-US sentiments have been running high in Iraq since the US assassination of Iran's legendary commander General Qassem Soleimani and his Iraqi trenchmate Abu Mahdi al-Muhandis in a drone strike in Baghdad on January 3, 2020. The two commanders were key figures in the final defeat of Daesh in Iraq in 2017.
Iraqi lawmakers approved a bill two days later, demanding the expulsion of all foreign military forces led by the United States from the country.
Currently, there are approximately 2,500 American troops in Iraq.