Iraq
Middle East
North America
Iraqi Resistance Commander Vows Retaliation for Death of 4 Hashd Shaabi Fighters
The leader of an Iraqi Resistance group has vowed to retaliate for the deaths of four of his men in a US airstrike along the Iraq-Syria border last month, saying it will be a military operation everyone will talk about.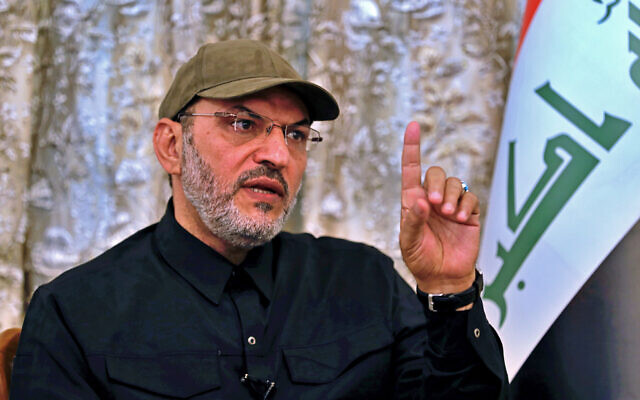 Abu Alaa Al-Walae, commander of Kataeb Sayyed Al-Shuhada, said in an exclusive interview with The Associated Press in Baghdad that the electoral victory of Iran's judiciary chief Ebrahim Raisi as president will strengthen Resistance groups throughout the Middle East for the next four years.
Al-Walae, who rarely gives interviews to foreign media organizations, spoke to the AP on Monday in an office in a Baghdad neighborhood along the Tigris River.
On June 27, US Air Force planes carried out airstrikes near the Iraq-Syria border, killing four fighters of the Hashd Shaabi paramilitary force which has been engaged along with the Iraqi Army in the fight against ISIL Takfiri terrorists.
The Hashd Shaabi, also known as the Popular Mobilization Forces, said the fighters were on missions to prevent infiltration by the ISIL terrorists.
Al-Walae hinted that Iraqi Resistance fighters might use drones in future attacks. He did not go into details. When asked if they used drones in the past against US occupation troops in Iraq, he gave no straight answer and moved to other subjects, according to AP.
"We want an operation that befits those martyrs," he said referring to the four fighters killed in late June. "Even if it comes late, time is not important."
"We want it to be an operation in which everyone says they have taken revenge on the Americans," Al-Walae said, whose Kataeb Sayyed Shuhada group is part of the Hashd Shaabi.
"It will be a qualitative operation (that could come) from the air, the sea, along Iraq's border, in the region or anywhere. It's an open war."