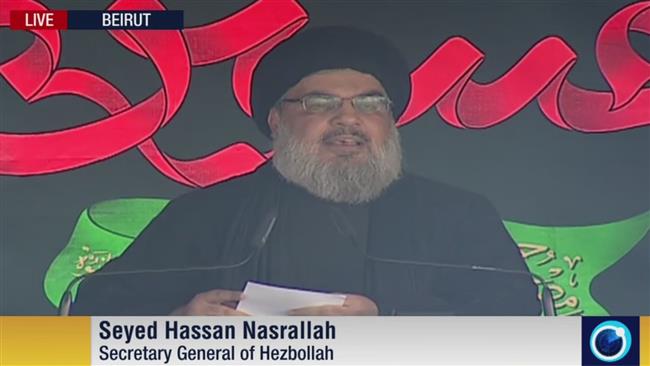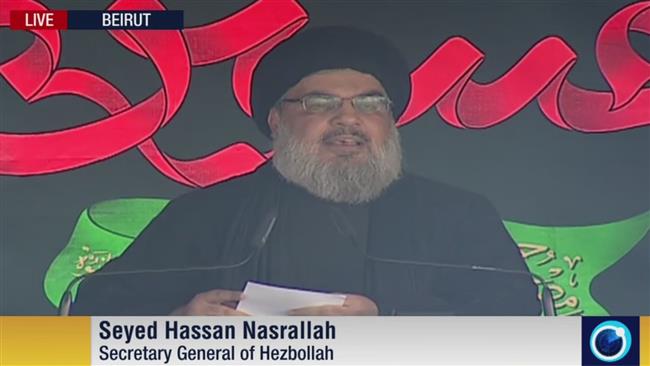 The secretary general of the Lebanese resistance movement Hezbollah says the violence-stricken nations in the region should not pin their hopes on the US to end the terror threats they are grappling with.
"We look forward to the victory of the Iraqi people against Daesh. We urge them not to pin your hopes on the US or the West. You have enough courage to defeat them all," Seyyed Hassan Nasrallah said during an address on the occasion of Ashura mourning ceremonies in Beirut on Saturday.
Since September 22, the US and its allies have been conducting airstrikes against Daesh inside Syria without any authorization from Damascus or a UN mandate. The airstrikes are an extension of the US-led aerial campaign against the extremist group positions in Iraq.
However, the so-called anti-Daesh air raids have so far failed to dislodge the Takfiri terror group, controlling swathes of land in both neighboring Arab states.
Elsewhere, Nasrallah reaffirmed Hezbollah's all-out support for the Palestinians and their legitimate demands.
He further pledged that the the Lebanese movement will not to fight against the Takfiri terrorists.
"We will continue our struggles in the face of the United States and the Takfiris," Nasrallah said.
He pointed to attempts by enemies to defeat Syria by fueling Takfiri violence in the country, saying, however, they should "forget the illusion" that they could eventually make the Arab nation fall as it will continue resistance.
The anti-Israel resistance front is determined to stand firm against the "American-Takfir terrorist war" on our nations and religion, Nasrallah added.
The Hezbollah chief condemned the Saudi aggression against Yemen as well as Al Saud and Al Khalifa regimes' crackdown in their respective countries.
Riyadh is committing crimes and massacring civilians in front of the eyes of the world, he said, adding Yemeni armed forces and popular committees will eventually emerge victorious in their fight against the Al Saud regime and its agents. "We denounce the attacks against Yemen and its innocent people. We are proud of their resilience."
Pointing to the diplomatic standoff in Lebanon, Nasrallah urged unity and abstention from trading accusations. He said the ongoing negotiations in the country should be continued seriously "because there is no substitute."