Iran
IRGC Aerospace Commander: Iran's Drones Make Enemies Angry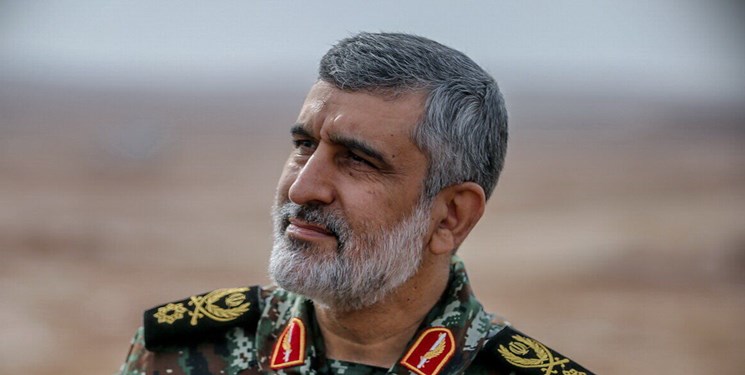 Commander of the Islamic Revolution Guards Corps (IRGC) Aerospace Force Brigadier General Amir Ali Hajizadeh said enemies, enraged by Iranian drone power, are trying to ban and stop Iranian arms exports, but in vain.
"The enemies' persistence to persuade Iran to negotiate on its missile capability was an indication of Iran's competence in this filed," General Hajizadeh said, addressing a ceremony to commemorate the late Martyred General Hassan Tehrani Moqaddam on Thursday.
He reiterated that the enemies' years-long sanctions on Iran's arms deals failed.
"They didn't let Iran to import weapons, but now they sanction Iran to stop its exports," General Hajizadeh said.
He said that Iran owed its competence in aerospace defense capability to people like martyr Tehrani Moghaddam and the way such people worked should be a pattern in any other sector, such as economy, culture and politics.
General Hajizadeh also referred to some threats by regimes like the Israeli regime and warned the Israeli regime that if it ushers in a confrontation, Iran would determine the end and the due date of annihilation of the Israeli regime would come sooner.
In relevant remarks in late October, General Hajizadeh warned that any adventurist move no matter at what scale will be rigidly responded.
"We will give a crushing and unforgettable response to any threat against our country," General Hajizadeh said in a meeting with foreign countries' military attaches in Iran.
"Those countries that have assumed that their security can be guaranteed by the Zionist regime are making a grave mistake," he added.
In relevant remarks in mid-October, Iranian Navy Commander Rear Admiral Shahram Irani underlined that his forces will strongly stand up against enemies and give a rigid response to any threat and wrong move against the country's territorial waters.
"Thanks to the extreme power of Iran's navy in the international arena, the enemy does not dare attack Iran's maritime borders," Admiral Shahram Irani said on Monday, addressing staff and personnel of Bushehr Maritime Base.
In relevant remarks last month, Admiral Irani said Iran stands at the forefront of the campaign to establish and promote international peace and friendship.
Iran has been engaged in an untiring push to reconcile the level of its defensive power with the gravity of the threats that are poised to it on the part of its enemies, most notably the United States and Washington's regional and extra-regional allies.
Relying solely on indigenous knowhow and equipment, the Islamic Republic has developed its military power into a state-of-the-art and effective defensive machine that is in the service of the country.