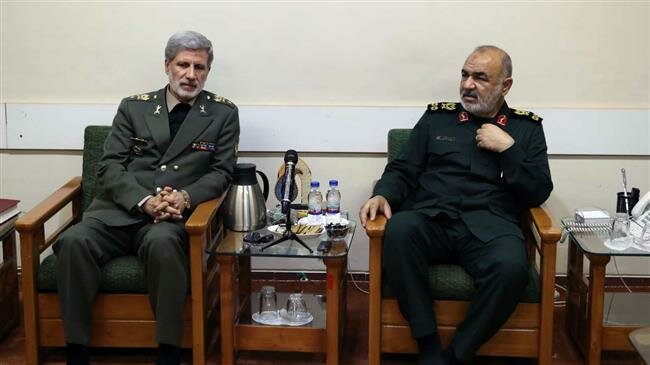 The chief commander of Iran's Islamic Revolution Guards Corps (IRGC) says the United States cannot restrict Iran's sources of livelihood as oil sales do not constitute the Islamic Republic's sole source of income.
Major General Hossein Salami made the remarks during a meeting with Iran's Defense Minister Brigadier General Amir Hatami on Saturday.
Salami said Iran's enemies are deploying all their means and capacities against the country, but added, "Our livelihood has not been predicated on oil. The US cannot restrict our livelihood."
'Foes fatigued'
The IRGC commander said Iran's foes had been tired out.
"Our enemies are fatigued today. They look sturdy but have decayed from within. They will crumble sooner rather than later although they are trying to deny that fact," the commander said.
Under President Donald Trump, the US has initiated a campaign of "maximum pressure" against Iran, pulling out of a multilateral deal with the country and re-imposing sanctions against it.
With the sanctions, Washington has been seeking, among other goals, to bring Iran's oil sales down to "zero." The White House has also imposed so-called secondary sanctions that target other countries doing business with Iran.
Also last month and in order to increase its pressure on the Islamic Republic, the US blacklisted the IRGC as a "foreign terrorist organization."
The Islamic Republic has warned about the implications of the move for regional and international security, and reciprocally designated the American West Asia force, known as the United States Central Command (CENTCOM), as a terrorist organization.
During the Saturday meeting, Brigadier General Hatami, for his part, wished success for Salami as the IRGC's commander, to which position he was appointed by Leader of the Islamic Revolution Ayatollah Seyyed Ali Khamenei last month.
Hatami pledged that the Defense Ministry would be supportive of the IRGC more strongly and efficiently than ever.