Iran
IRGC Commander Reiterates Iran's Full Preparedness to Foil Enemies' Threats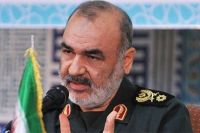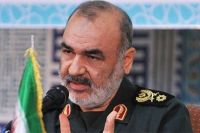 Lieutenant Commander of the Islamic Revolution Guards Corps (IRGC) Brigadier General Hossein Salami underlined the preparedness of the Iranian Armed Forces to repel any kind of possible enemy threat against Iran.
"The brave Iranian nation is not afraid of the enemy's threats and sanctions as the country's Armed Forces are in the best conditions of preparedness," Brigadier General Salami said, addressing a gathering of seminaries in the Central City of Qom on Thursday night.
According to FNA, he pointed out that Iran's eye-catching advances in different political, economic, military and scientific areas, and said, "Such advances have amazed the enemies of Iran."
Brigadier General Salami referred to the enemies' plots, and said, "Today the Islamic Republic of Iran is in a calm situation despite being surrounded by instabilities in the Middle East."
In relevant remarks on Thursday, Commander of the Iranian Ground Force Brigadier General Ahmad Reza Pourdastan reiterated that the country is now enjoying the best military force with unique features, that are fully prepared to confront any possible enemy threat and aggression under any conditions.