Iran
Middle East
North America
IRGC Commander: US Sanctions Futile, Iran to Continue Support for Yemenis
Commander of the Islamic Revolution Guards Corps Aerospace Force Brigadier General Amir Ali Hajizadeh said that the US sanctions against Iran proved inefficient, stressing the country's continued support for the Yemeni people.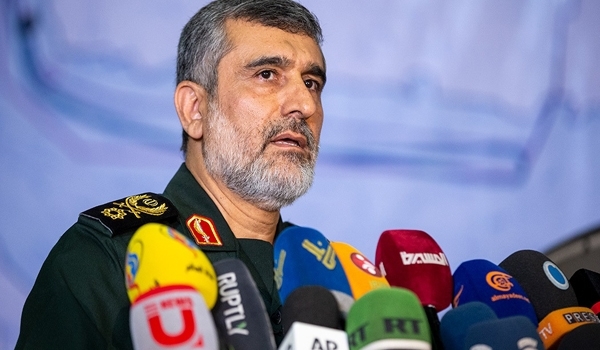 "Today, the US military power does not help it and the weapon of its sanctions is empty of bullets," General Hajizadeh said, addressing a ceremony in Tehran on Thursday.
He stressed Iran's military power, and said the US aircraft carrier which was due to enter the Persian Gulf did not dare to approach the waterway and deployed 700km away from the Iranian coasts.
Elsewhere, General Hajizadeh blasted Saudi Arabia for turning itself into a tool in the hands of the US by launching a war against Yemen and helping Washington in economic war against Iran, and said if Riyadh continues the same trend, it will certainly collapse.
"We will stand beside the oppressed Yemeni people to the end," he said.
Saudi Arabia has been striking Yemen since March 2015 to restore power to fugitive president Mansour Hadi, a close ally of Riyadh. The Saudi-led aggression has so far killed more than 20,000 Yemenis, including hundreds of women and children. Despite Riyadh's claims that it is bombing the positions of the Ansarullah fighters, Saudi bombers are flattening residential areas and civilian infrastructures.
Yemen is the world's largest humanitarian crisis with more than 22 million people in need and is seeing a spike in needs, fueled by ongoing conflict, a collapsing economy and diminished social services and livelihoods. The blockade on Yemen has smothered humanitarian deliveries of food and medicine to the import-dependent state.
The UN has repeatedly criticized the Saudi-UAE-led military coalition's bombing campaign and placed it on a blacklist of child rights violators last year.
A UN panel has also compiled a detailed report of civilian casualties caused by the Saudi military and its allies during their war against Yemen, saying the Riyadh-led coalition has used precision-guided munitions in its raids on civilian targets.
The Yemeni Army and Ansarullah Popular Forces respond the Saudi-led coalition's attacks by their ballistic missiles.
Missile units of the Yemeni Army and Ansarullah Popular Forces fired two Zelzal-1 ballistic missiles on Tuesday, killing and injuring a number of Saudi forces and Riyadh-Backed militants in two different positions, a Yemeni military source told Arabic-language al-Masireh news channel.
In the first attack a Saudi military base in the West of Heiran, in the Yemeni province of Hajja, was targeted.
The second missile hit another a concentration point of the Saudi forces in Heiran.