Iran
North America
IRGC Commander: Waivers Prove Defeat of US Sanctions Policy against Iran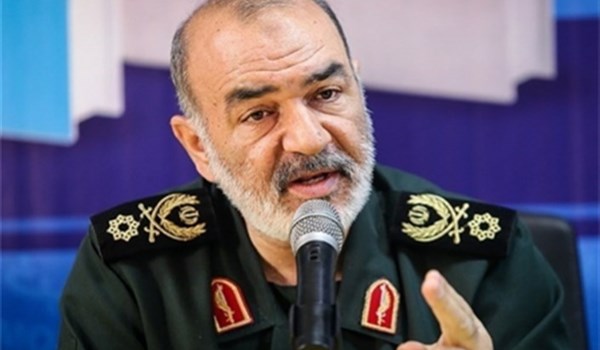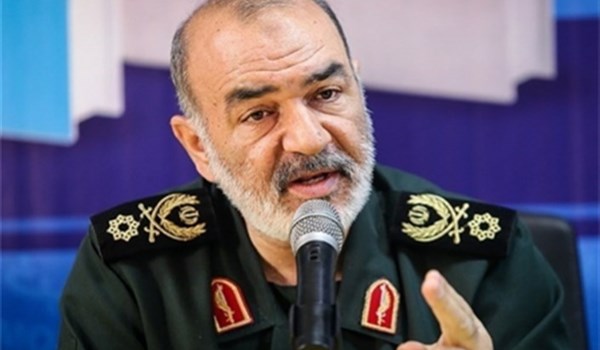 Lieutenant Commander of the Islamic Revolution Guards Corps Brigadier General Hossein Salami underlined that the US administration's decision to grant eight jurisdictions on special exceptions to continue importing oil from Iran indicates Washington's failure in advancing its hostile policies.
"The US first said that it would zero down Iran's crude exports, but they changed it later because they came to realize that they cannot materialize their demand and you saw that they exempted 8 countries from their sanctions against Iran and this is a manifestation of the Islamic Republic of Iran's victory," General Salami said in an interview with the state TV on Saturday night.
"Exemption of 8 countries from the oil sanctions shows their weakness and incapability. I believe that the Americans are only practicing inability, in dealing with us," he added.
The US Treasury Department announced all sanctions on Iran lifted under the 2015 nuclear deal would be back in force on November 5.
But the Trump administration declared on Friday that it will allow eight countries to import limited amounts of Iranian oil even after US sanctions take effect on Monday in a clear move to damp fears about a shortage of supplies.
According to Treasury Secretary Steven Mnuchin, the sweeping sanctions will see 700 people blacklisted, including people who were granted relief under the 2015 deal, as well as over 300 new names.
The Iranian officials have downplayed the effects of new sanctions on the country and its oil exports.
In relevant comments last Wednesday, Iranian President Hassan Rouhani underlined the US inability to put into practice its goal of stopping Iran's crude exports, saying that the government was not afraid of Washington's threats.
Addressing a cabinet meeting in Tehran, President Rouhani assured the Iranian nation of the government's resolve to stand up to US threats, emphasizing that his team will do all in its power to resolve the economic problems caused by American pressure.
"November 4 this year translates into a new instance of oppression by America," he said, referring to the date, when Washington is set to reimpose sanctions on Iran's energy sector.
"Our people need to rest assured that the government is not afraid of US threats," Rouhani said.
The president said that representatives of various countries, including Asian and European ones, had sent messages of assurance to the Islamic Republic "that they will stand by and continue their cooperation with Iran." "We are certain that the Americans will fail in their new plot, and that they are actually in gradual retreat," he said.
President Rouhani recalled that US officials first claimed that they would reduce Iran's oil exports to zero, but then retracted their statement, saying that the process could take two to three months.
"We tell them that 'you will not reach any of your goals with regard to Iran's oil sales. You will neither be able to bring it to zero nor reduce it to the amount you want,'" Rouhani stated.
By escalating psychological and economic pressure, the US has been seeking to anger the Iranian people, President Rouhani said, adding however that Iranians were and would be angry at Washington's atrocities, rather than their own Islamic establishment, government, and country.
"Because they (the nation) love their country Iran," the president said.
Rouhani said that Iran could easily overcome the setbacks, because it enjoys lasting relations with its trade partners, whereas the US pressure is only temporary.
"The US will raise hue and cry for a few days, but will have to eventually leave (the region), because they cannot make decisions for the people of the region," Rouhani noted.