Iran
Middle East
Palestine
IRGC Commander: Whole Israeli-Occupied Territories within Range of Hezbollah's Missiles
Commander of the Islamic Revolution Guards Corps Major General Mohammad Ali Jafari said that the Israeli expansionist dreams turned sour with the victory of the Islamic Revolution, adding that now Lebanon's Hezbollah enjoys missiles with a range that covers the whole Israeli-occupied territories.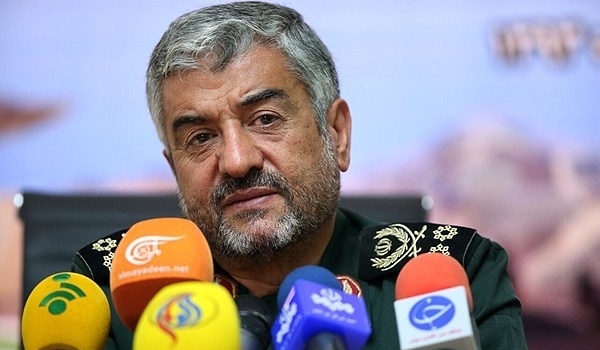 General Jafari, in an interview on the 40th anniversary of the victory of the Islamic Revolution, touched upon the bullying rhetoric of Israel against his country, and said, "While they once dreamed of their territorial expansion from the Nile River to the Euphrates River, and they were after realizing this wish in the past 50 years, today you can see that they have been unable to expand their land even for an inch; they even have lost some of the territories they had already occupied and are under full siege from all around their borders."
Saying that the whole Israeli-occupied territories are within the range of the missiles of Lebanon's Hezbollah, Jafari referred to the resistance staged by the people of Gaza, and said, "The current status quo and the current capabilities of the Resistance Front of the Islamic Revolution are all the unique accomplishments of the Islamic Revolution which cannot be verbally described and they rather should be sensed."
"To put it in a nutshell, we can say that the enemy has not been successful in the region and all its plots and operations have ended up with nothing but failure for them and success for the Islamic Revolution and the Resistance Front," he asserted.
Late in February, Syrian President Bashar al-Assad visited Tehran and rushed to meet Iran's Leader Ayatollah Seyed Ali Khamenei.
The following day, former Iranian Deputy Foreign Minister Alireza Sheikh Attar said that bolstering the resistance front and confrontation against the Israeli plots were the main messages of Assad's trip to Tehran.
Last Friday, Secretary General of the Lebanese resistance movement Hezbollah Seyed Hassan Nasrallah stated that the anti-Israel resistance front, thanks to solid and unwavering support from Iran and Syria, has well managed to frustrate the Tel Aviv regime's plots in the Middle East.
"All Lebanese and Palestinian resistance groups, supported by Iran and Syria, thwarted the project to pull the plug on the front. The steadfastness and resilience demonstrated by Hezbollah in Lebanon, Gazans, Syria as well as Iran foiled the fiendish plot against the region back in 2006," he underlined.