Iran
IRGC Official: Iran's Redlines Not Affected by US Threats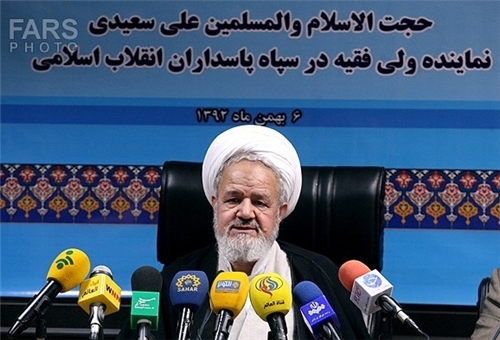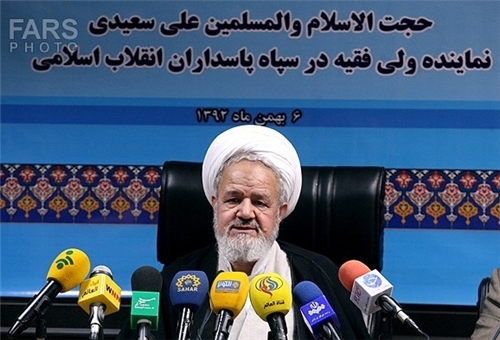 Leader of Islamic Ummah and Oppressed People Imam Seyyed Ali Khamenei's representative at the Islamic Revolution Guards Corps (IRGC) Ali Saeedi condemned US Secretary of State John Kerry for his military threats against Iran, and said such war rhetoric cannot force the Iranian negotiators in the talks with the world powers to withdraw from their positions.
"Sometimes, it is in (our) interest that international exchanges go ahead in the form of negotiations and diplomacy, and diplomacy needs its own rules; in this issue (negotiations with the world powers) while the principles should be safeguarded, we should also keep vigilant in order not to allow them at all to impair our redlines and principles," Saeedi said in a press conference in Tehran on Sunday.
He called on the Iranian negotiators participating in the talks with the Group 5+1 (the US, Russia, China, Britain, France and Germany) to be vigilant and not allow such interactions undermine Iran's influence in the region.
Elsewhere, Saeedi downplayed the US officials' recent military threats against Iran, and said, "We are more prepared than any other time and our youths are as motivated and spirited as they were in the early days of the (Islamic) Revolution."
Kerry said in an interview in Geneva on Thursday that the military option was still on the table if Iran did not live up to its nuclear commitments under the Geneva deal.
On Friday, Deputy Chief of Staff of the Iranian Armed Forces for Cultural Affairs and Defense Publicity Brigadier General Massoud Jazzayeri downplayed the US and its allies' war rhetoric against Iran, and said they don't dare to attack Iran because they have no hope of victory in such a war.
In response to Kerry's comments, the senior Iranian commander said that the US government knows that the military option against Iran is not practical.
The United States has long stressed that military action is a main option for the White House to deter Iran's progress in the field of nuclear technology.
Iran has warned that in case of an attack by either the US or Israel, it will target 32 American bases in the Middle-East and close the strategic Strait of Hormuz.
An estimated 40 percent of the world's oil supply passes through the waterway.