Iran
Middle East
North America
IRGC Top Commander: Enemies Not Even Think of Military War against Iran
Commander of the Islamic Revolution Guards Corps (IRGC) Major General Hossein Salami said military action has been taken off agenda by Iran's enemies thanks to the country's high defense power.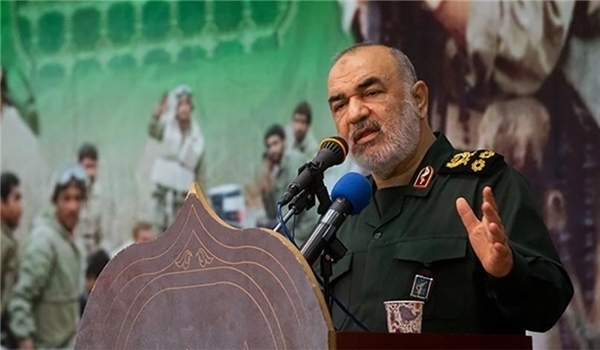 "Military war against us is no (more) desirable to the enemies, and the reason why it is not the enemy's prescribed choice for political gains lies in our preparedness, defense power and credibility of this power," General Salami said, addressing a ceremony in Tehran on Sunday.
Elsewhere, he referred to the recent incidents in the western societies, and said that one may not find a direct relationship between the incidents in the West and the Islamic Revolution, but the reality is that the Islamic Revolution is known across the world and has even inspired the US society.
In relevant remarks in October, Lieutenant Commander of the IRGC Rear Admiral Ali Fadavi underlined that Iran's deterrence power has dissuaded enemies, including the US, from launching military war against the country.
"The enemies have understood that the military option against Iran yields no result," Rear Admiral Fadavi said, addressing a forum in Tehran.
He added that the enemies are today attempting to hit a blow at the resistance groups and spread panic to prevent the Islamic Republic move towards its causes, "although they have gained no result, but failure".
Rear Admiral Fadavi said that the US does not spare any attempt to annihilate the Islamic Republic if it can but it has failed against the Islamic Republic's power and might.
He referred to the downing of a US spy plane over Iran's territorial waters, and said the fact that Washington thanked Tehran after the latter didn't shoot down the US P8 aircraft with 35 on board shows the peak of their weakness and desperation against the Islamic Revolution and the Iranian nation.
The IRGC Aerospace Force shot down an American spy drone over the territorial waters of Iran near the Strait of Hormuz at dawn on June 20.