Iran
Middle East
North America
Qasem Suleimani
IRGC's satellite launch proved Iran stronger than before: US Senator
A US senator says Iran's recent satellite launch proved that the policies adopted by President Donald Trump have strengthened Iran and weakened America in the Middle East compared with four years ago.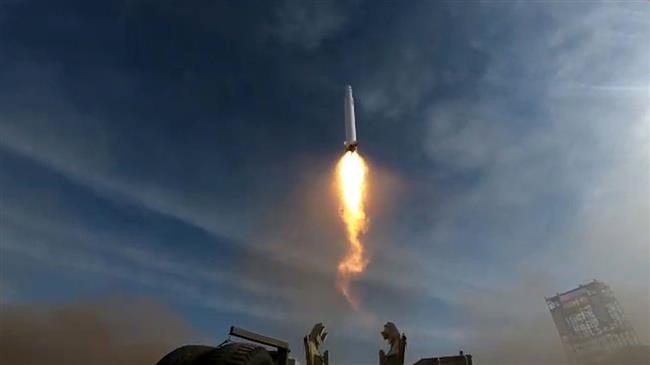 In a series of tweets, Chris Murphy, a Connecticut Democrat, referred to Iran's Islamic Revolution Guards Corps's successful launch of Iran's first military satellite – dubbed Noor-1 (Light-1) – and described it as "more proof that Trump's Iran policy just strengthens Iran."
"In virtually every way, Iran is stronger today in the Middle East, and America is weaker, than 4 years ago," he noted, elaborating on how "disastrous" Trump's policies have been since he took office in 2016.
The IRGC successfully placed the Islamic Republic's first ever military satellite in its designated orbit on April 22, using a rocket which is also the country's first three-stage launch vehicle to successfully deliver its load.
In his Twitter thread, the US senator accused Iran and its allies in the region of "shooting at US troops on a regular basis", and blamed it on Trump's policies.
Referring to the US assassination of Iranian top anti-terror commander Lieutenant General Qassem Soleimani in Baghdad, Murphy said the killing was supposed to "deter" Iran, according to Trump, but it resulted in further attacks on US troops.
The top senator pointed to Trump's termination of the 2015 nuclear deal between Iran and world powers, saying that the US president's policy has "failed miserably".
"Nobody signed up for the new sanctions, and Iran restarted their nuclear program. And no new, better deal," he added.
Today we learned Iran has launched its first military satellite – more proof that Trump's Iran policy just strengthens Iran and causes them to act more aggressively.

1/ It's hard to quickly sum up how disastrous Trump's policy has been, but let me try.https://t.co/Qg1ogfKRdy— Chris Murphy (@ChrisMurphyCT) April 23, 2020
He also pointed to Iran's growing influence in the Middle East, especially in Syria, Yemen, Lebanon, and Iraq, and described it as a "disaster" for the United States.
"Trump's policy of diplomatic withdrawal, unilateral economic sanctions, and blind, non-strategic military escalation has done nothing but play into Iran's hands," he added.
"They are stronger, we are weaker. And the launch of this satellite is just more proof," Murphy concluded.
The IRGC fired the Noor-1 aboard Qased (Carrier) satellite carrier during an operation that was staged in Dasht-e Kavir, Iran's sprawling central desert, which was placed into the orbit 425 kilometers above Earth's surface.
The Noor-1, although Iran's fifth homegrown satellite to successfully reach outer space, marks a new chapter in the country's space program, which relies heavily on technologies that are designed and developed at home.