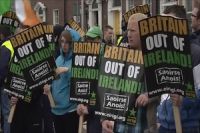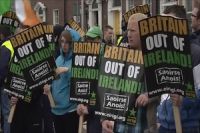 Protestors in Ireland greeted Queen Elizabeth II upon her arrival in Dublin with slogans against the British rule on Northern Ireland and in favor of a united Ireland.
According to Press TV, demonstrations in the central streets of Dublin echoed with chanting in support of the union of the two Irelands while angry protestors burned UK flags.
Participants in the rallies chanted slogans including "Troops out," "No Royals" and "No one welcomes the Queen."
The visit comes as Ireland is witnessing an unprecedented security operation with the presence of more than 10,000 police and 120 British special police forces in charge of protecting Queen Elizabeth during her tour of the Republic of Ireland.
Security forces cordoned off all the streets on Queen's route hours earlier than her arrival in Dublin effectively blocking protestors from the venues, where the Queen was to attend, by metal barriers.
Police earlier announced they had discovered a bomb in a location near Dublin despite the large scale security measures involving 8,000 Irish police officers and 2,000 Irish army soldiers to prevent dissidents' disruptive activities.
The Republic of Ireland and Britain have not enjoyed close relations over the last century due to sectarian and political problems rooted in Britain's colonization of its neighboring island.
The Queen's visit comes exactly one hundred years after former British monarch George V paid a visit to his then Irish subjects.
The visit is deemed to face more trouble as Republicans supporting the union of the Northern Ireland and the Irish Republic have vowed to do what it takes to disrupt Elizabeth's tour.
The Queen will be guarded by bullet-proof vehicles while snipers keep vigil over her route over the four days she is to stay in Ireland.
The cost of ensuring the security of the Queen is estimated to go beyond £25 million.