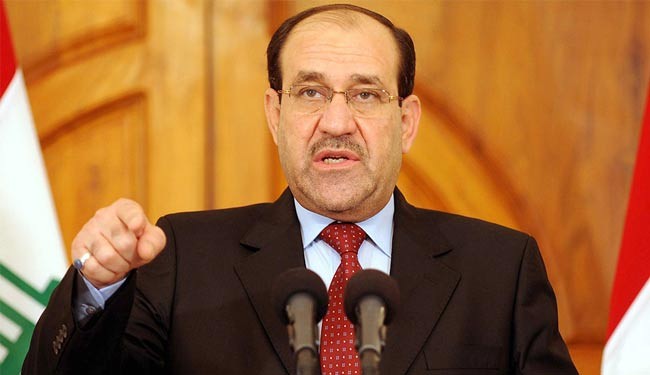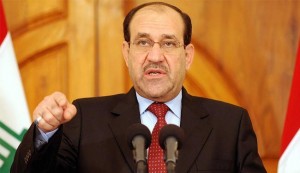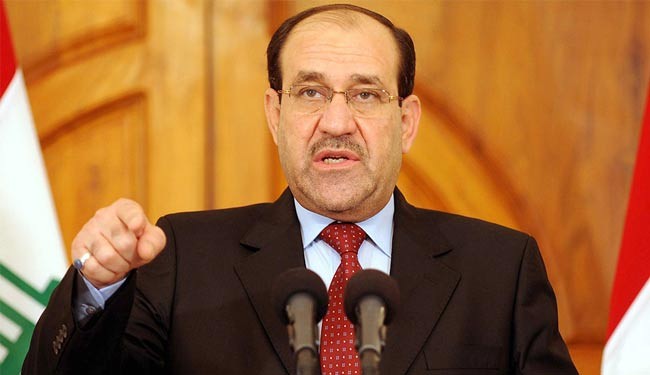 Iraqi Prime Minister Nouri al-Maliki says militants belonging to the so-called Islamic State of Iraq and the Levant (ISIL) will turn against their Saudi Arabian and Qatari supporters who call them "revolutionaries."
Maliki said on Wednesday that the situation in Iraq is due to a conspiracy by certain political factions.
"You hear the Saudi, Qatari and some other Arab media calling them (ISIL militants) revolutionaries and that the Iraqi army is a sectarian force, but they've forgotten that they are living in countries brimming with sectarianism and marginalization of minorities," al-Maliki said, adding, "We tell them and all our friends and Arab brothers to be sure that terrorism will never be limited to the Iraqi borders."
Meanwhile, he expressed optimism that Iraq would soon weather the ongoing crisis.
Maliki also said army forces will continue their operations against the ISIL Takfiri group until victory is achieved. He expressed gratitude to Iraq's most senior Shia cleric Grand Ayatollah Ali al-Sistani, for encouraging volunteers to join the army and help the government.
More than two million Iraqis have already volunteered to join the fight against the Takfiri militants.
The ISIL Takfiri group threatens to take its acts of violence to several Iraqi cities, including the capital, Baghdad.
On June 10, the ISIL militants took control of Mosul, the capital of Nineveh Province, which was followed by the fall of Tikrit, located 140 kilometers (87 miles) northwest of the capital, Baghdad.
The Iraqi premier has blamed Saudi Arabia and Qatar for the security crisis and growing terrorism in his country, denouncing Riyadh as a major supporter of global terrorism.