Days of Allah
Iran
Middle East
North America
Palestine
Ten Days of Dawn
Islamic Revolution dealt maximum defeat to US, 'israeli' regional goals: Top cmdr.
Iran's top military commander says the United States and Israel's regional ambitions have suffered maximum defeat in the face of the country's Islamic Revolution and its resolute people.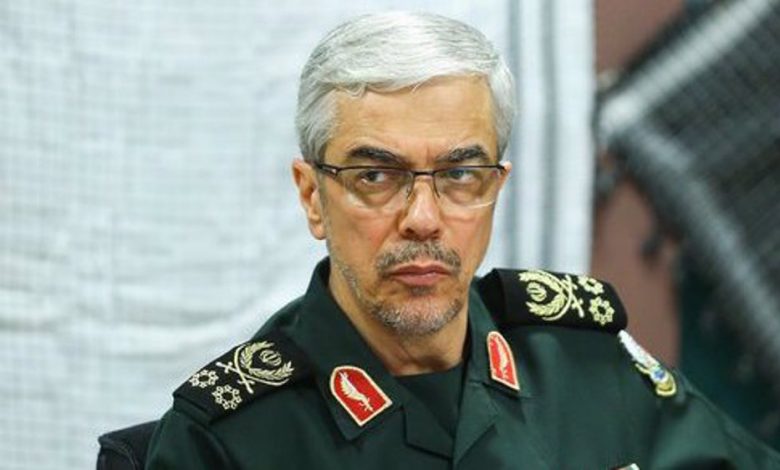 "The US, the Zionist regime [of Israel], and the sinister and contemptible reactionary [regional states'] goals and strategies for this region have [all] suffered maximum defeat in the face of [Iran's] Islamic Revolution and this chosen and decisive nation," Chairman of the Chiefs of Staff of the Iranian Armed Forces Major General Mohammad Baqeri said a statement issued Tuesday.
The US and Israel had, therefore, sustained "more wounds and are more disparate" in the face-off with Iran's Revolution and nation, added the statement that was released on the eve of the Islamic Revolution's 42nd anniversary.
The 1979 Revolution deposed Iran's former US-backed Pahlavi regime. The Revolution owed its victory to the intuitive and enlightening leadership of late founder of the Islamic Republic Ayatollah Khomeini and the zealous popular mobilization that the leadership galvanized.
General Baqeri reminded how the Revolution set off the course of the US and Israel's regional misadventures.
Iran an 'undeniable power' now
It did so, he added, by freeing Iran from the US and the Western camp's domination and initiating its ascendance towards becoming an "undeniable international power."
The commander also said ever since the historic development, the Western and American civilization has reached "a strategic deadlock" in the face of the Revolution and Iran's Islamic establishment after failing in every attempt to reverse the 1979 victory.
"Today, world powers have been extremely frightened after observing [the extent of] the Islamic Republic's potentials and advancements as well as its geopolitical and strategic capabilities," the commander noted.
These powers now have no choice other than to simply bear witness to Iran's indisputable strength on the international arena, Baqeri said.
'Regional order changing in favor of Iran
They also have to prepare themselves for a new regional order, in which the Islamic Republic serves as the "principal pole," he noted.
He said Leader of the Islamic Revolution Ayatollah Seyyed Ali Khamenei's directions coupled with strong popular presence and the country's deterrent power have been instrumental in reinforcing the Revolution against the enemies' incessant plots.
The official, however, warned that Iran's adversaries were still waiting for the smallest instance of negligence from the Islamic Republic to attempt to afflict damage on the Revolution.
He expressed certainty, however, that the Leader's awareness and popular steadfastness would frustrate the ill-wishers.
Baqeri, meanwhile, said the country had acquired such deterrence power and shifted the strategic balance in its own favor to a level that "it has dissuaded the enemy from committing any miscalculation."
Iran's Armed Forces "are prepared for reciprocal, decisive, and regret-inducing confrontation with whatever threat and incursion on the part of regional and extra-regional enemies," he said.