Europe
Jahangiri: Iran-Belarus ties have bright prospects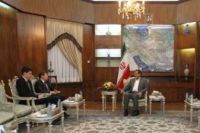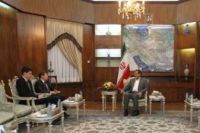 Iran's First Vice-President Eshaq Jahangiri said on Tuesday that prospects of Iran-Belarus relations are bright and the Government of Hope and Prudence intends to promote ties with the friend country of Belarus in all domains.
Jahangiri made the remarks in a meeting with Belarus Ambassador to Tehran Rybak Viktor.
Jahangiri pointed to low level of trade ties between Iran and Belarus in the years 2012 and 2013 and said Tehran and Minsk should find proper ways to increase economic ties and lift impediments to keep up the trade in line with the excellent diplomatic ties.
According to IRNA, he underlined expansion of mutual cooperation and investment and urged preparing the ground for activity of Iranian private sector and companies in Belarus.
Jahangiri said that Iran and Belarus have provided each other with necessary support internationally in different junctures.
The Iranian first vice-president said visit of Iranian Deputy Minister of Industries, Mines and Trade to Belarus serves as a step towards enhanced economic cooperation.
He hoped that Iran and Belarus will be able to take more serious measures to upgrade level of trade and commerce.
Rybak said that Belarus is eager to expand close ties with Iran.
"The two countries enjoy very good ties and no political obstacle exists on the way of trade and commerce between Tehran and Minsk."
Calling for expansion of economic cooperation and investment, he said the Government of Hope and Prudence has provided suitable ground for expansion of mutual trade ties and cooperation.
He called for removal of impediments on the way of mutual economic relations to see a jump in trade ties.