Iran
Jamaran-2 shows Iran defense might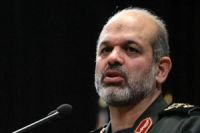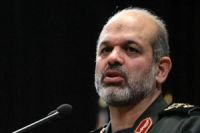 Iranian Defense Minister Ahmad Vahidi says the presence of the Jamaran-2 destroyer symbolizes the country's defense industry prowess.
Brigadier General Vahidi said on Sunday, "Jamaran-2 represents the [Iranian] defense industry supremacy and proves the progress of [Iran's] Defense Ministry, especially its maritime industry".
Vahidi added that Iran's Defense Ministry has been developing its naval forces in line with the Leader of Islamic Ummah and Oppressed People Imam Seyyed Ali Khamenei's guidelines on the importance of protecting Iranian maritime borders.
The 1,420-ton destroyer is powered by a 20,000-horsepower engine with a speed of 30 knots and has the capability to carry helicopters, different surface-to-surface and surface-to-air missiles, as well as advanced artillery and torpedo systems. It is also equipped with electronic war system.