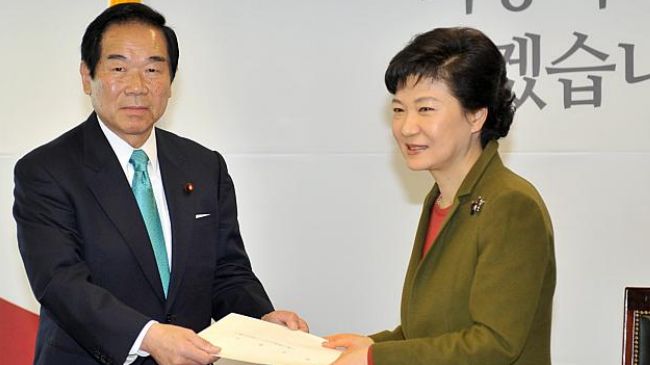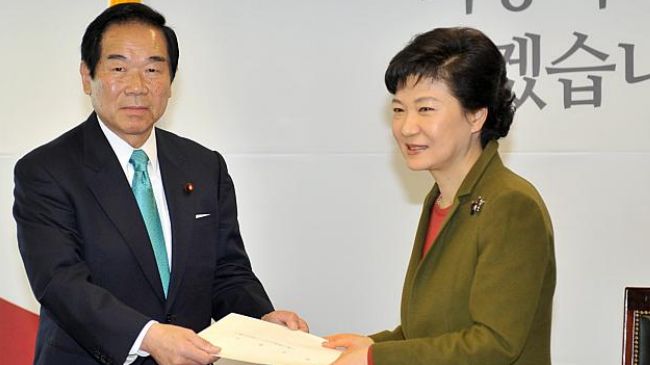 Japan has sent a special envoy to South Korea in a bid to mend Tokyo-Seoul relations soured over a territorial dispute, the Japanese Foreign Ministry says.
Japanese newly-appointed Prime Minister Shinzo Abe on Friday sent Fukushiro Nukaga, a veteran lawmaker and former finance minister, to deliver a letter to South Korean President-elect Park Geun-hye.
Park said during a meeting with Nukaga on Friday, "At a time when a new government starts [in both countries] I hope we can make a mutual effort to build trust based on people's sentiment and strengthen our bilateral ties in various fields."
Nukaga told reporters at the airport before departure for Seoul, "As both Japan and South Korea have new governments, I would like to play the role of mediator so that this year can be a good one for the two countries."
"Prime Minister Abe believes that Japan-South Korea relations need to be solid for the stability of East Asia," he stated. "I want to convey that message."
Tokyo and Seoul have long been involved in a spat over the ownership of a tiny group of islands, known as Dokdo in South Korea and Takeshima in Japan.
Diplomatic relations between Japan and South Korea became tense after South Korean President Lee Myung-bak made a surprise visit last year to the East Sea islets. Following the visit, Japanese Foreign Minister Koichiro Gemba said Tokyo had recalled its ambassador to Seoul.
The islands lie roughly half way between the two countries and have been under the control of South Korea since the end of the Japanese colonial rule after World War II.
South Korea controls the islands, said to have large deposits of natural gas and oil, with a coast guard presence and plans to enhance maritime research in the area, also rich in marine life.
China is also carrying out exploration activities near the islands and is preparing to develop the gas fields. Japan says the activities could jeopardize its interests.