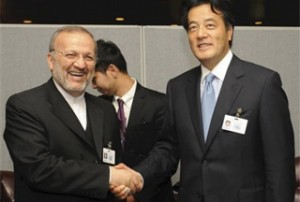 Japan's foreign minister has called on Iran to continue high-level contacts with his country over issues of mutual interest.
Katsuya Okada made the remarks during a one-hour teleconference with his Iranian counterpart Manouchehr Mottaki on Tuesday.
According to IRIB, the two sides discussed mutual relations and the latest regional and international developments.
Mottaki expressed optimism that the current level of ties between the two states be upgraded.
He described Tehran-Tokyo cooperation on Afghanistan as one of the "successful" models of interactions between two states.
Japan's Kyodo News Agency also quoted Okada as urging Iran to increase its cooperation with the International Atomic Energy Agency (IAEA) over its nuclear program in an effort to "build relationships of trust with the international community."
Mottaki, on his part, reiterated that Iran's nuclear activities are solely for peaceful purposes, something that has been repeatedly verified by the IAEA.
The US and its allies have been trying to use their privileges at the United Nations Security Council to push through a fourth round of sanctions against Iran, while China and Russia have been reluctant to go along with the scheme.
Although the IAEA inspectors stationed in Iran have not been able to find evidence to support Western claims of diversion in the Iranian nuclear program, the US and its European allies continue to accuse Iran of pursuing nuclear arms development under the guise of a civilian program — a claim fiercely rejected by Tehran.
Iran says, as a signatory to the Nuclear Non-Proliferation Treaty, its nuclear program is peaceful and aimed at civilian applications of the technology which many western countries enjoy but try to prevent others from gaining access to the technology.
Iran has repeatedly called for the global elimination of all nuclear weapon production, arsenals and development, a call that has been ignored by nuclear powers that accuse Iran of seeking such arms.