Middle East
Palestine
Jerusalem al-Quds church reopens as terrorist israel backtracks on controversial plans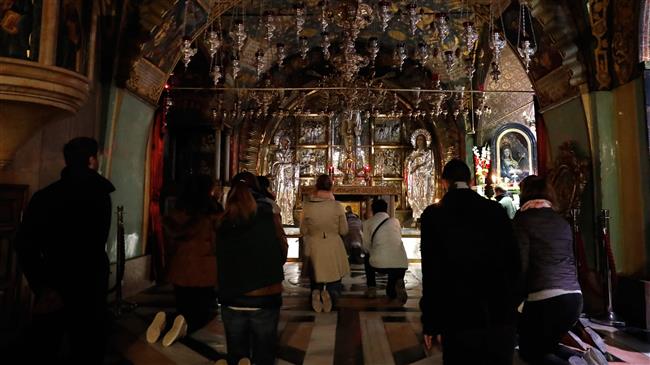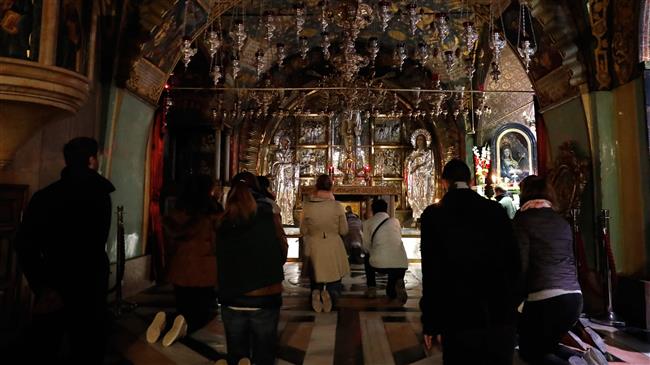 The Church of the Holy Sepulchre in Jerusalem al-Quds has reopened its doors after Israel backtracked on its controversial tax and land grab plans targeting churches in the city.
The church, seen by many as the holiest site in Christianity, reopened at around 4:00 a.m. local time (0200 GMT) on Wednesday after a three-day closure in protest at the Tel Aviv regime's controversial measures.
The Jerusalem al-Quds municipality had canceled a tax exemption it had granted church-owned commercial properties in the Israeli-occupied city. Israeli cabinet ministers also began studying a bill to expropriate land in Jerusalem al-Quds that churches sold to private real estate firms in recent years.
In response, Greek Orthodox, Armenian Apostolic and Catholic leaders, who jointly manage the Church of the Holy Sepulchre, shuttered its doors on Sunday to protest  the "unprecedented attack against Christians," locking out thousands of pilgrims and tourists.
They described the Israeli tax policy as "an attempt to weaken the Christian presence in Jerusalem [al-Quds]."
The church closure, which seemed to be the longest since at least 1990, also drew criticism from Palestine, Lebanon and Jordan, which is the custodian of holy sites in the Israeli-occupied city.
Jordan, Lebanon and Palestine slam Israel's tax and land grab plans targeting churches in Jerusalem al-Quds.
Israel finally buckled under pressure, with Prime Minister Benjamin Natanyahu's office announcing in a statement that it was suspending the tax collection and freezing the legislation until a newly formed committee — to be headed by Regional Cooperation  Minister Tzachi Hanegbi —  could resolve the issues with the churches.
The committee would work "with the participation of all relevant parties, to formulate a solution for the issue of municipal taxes on properties owned by churches that are not houses of worship," the statement read.
The church leaders welcomed the suspension and ended the protest.
Israel lays claim to the whole Jerusalem al-Quds, but the international community views the ancient city's eastern sector as occupied land and Palestinians consider it as the capital of their future state.
In December last year, US President Donald Trump sparked global uproar by announcing a dramatic shift in Washington's policy on Jerusalem al-Quds. He declared that the US was recognizing Jerusalem al-Quds as the "capital" of Israel and planning to relocate the American embassy from Tel Aviv to the city.