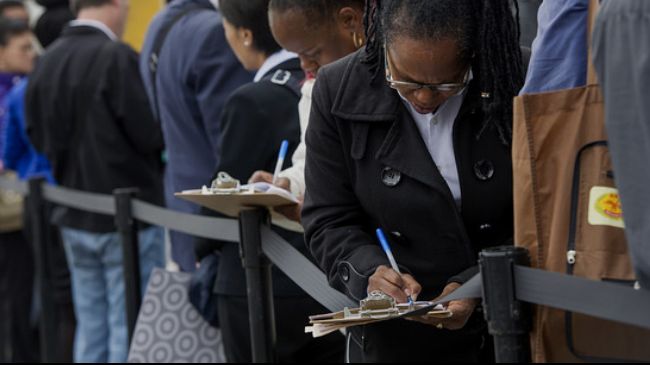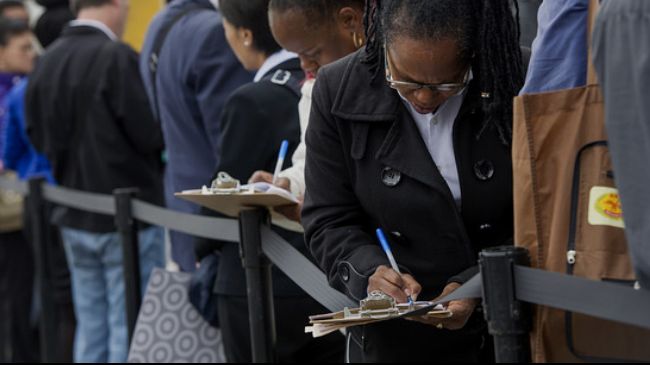 The number of Americans filing applications for unemployment benefits rose more than forecast last week after reaching a six-month low, a sign that progress in the labor market remains fitful.
Jobless claims increased 16,000 in the period ended March 29 to a five-week high of 326,000, the Labor Department reported today in Washington. A revised 310,000 applications were filed in the previous week, the fewest since Sept. 7. The median forecast of 52 economists surveyed by Bloomberg called for 319,000 claims.
A slowdown in layoffs from earlier this year may set the stage for additional hiring as demand rebounds from a weather-induced soft patch. Figures tomorrow are projected to show companies took on more workers in March than at any time in the last four months.
"Layoffs are still very, very low," said Ryan Sweet, senior economist at Moody's Analytics Inc. in West Chester, Pennsylvania, and the best forecaster of claims over the past two years, according to data compiled by Bloomberg. "Claims are pointing toward an improvement in the job market. It's evidence that the economy's struggles this year were temporary."
Economists' estimates in the Bloomberg survey ranged from 310,000 to 335,000 after a previously reported 311,000 in the previous week. Today's report included annual revisions for the seasonal adjustment factors for the jobless claims data from 2009.