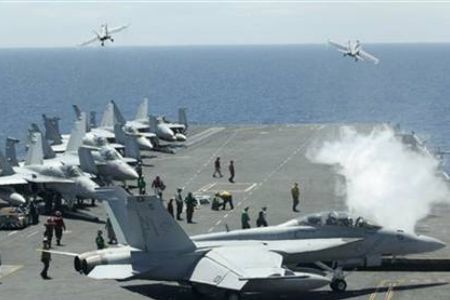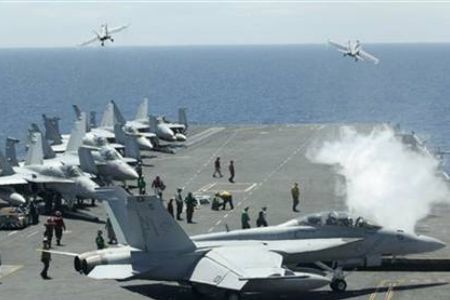 Joint military drills between the US and South Korea in the Sea of Japan enter their third day, with attacks on potential seaborne North Korean infiltrators.
The four-day exercise involving nearly 8,000 US and South Korean sailors has taken place amid a heated war of words in the Korean peninsula over the sinking of a South Korean warship earlier in March.
On Tuesday, the 97,000-ton carrier USS George Washington accompanied by 20 ships and 200 aircraft, including four F-22 Raptor stealth fighters were showcased on the third day of the high-profile naval exercise.
Meanwhile, a spokesman for Seoul's Joint Chiefs of Staff told AFP that the exercise on Tuesday focused on destroying infiltrating enemy submarines, semi-submersible high-speed boats or seaborne special forces.
Washington and Seoul hope the drills will send a powerful message to Pyongyang in the wake of the March 26 sinking of South Korea's Cheonan warship near the North Korean maritime border.
Pyongyang has flatly rejected allegations that a North Korean torpedo destroyed the vessel and killed 46 sailors onboard.
The joint drill follows new US sanctions on North Korea.
North Korea has threatened to use what it describes as a powerful nuclear deterrence in response to the ongoing joint naval maneuver.