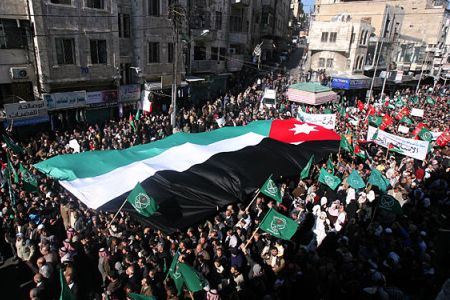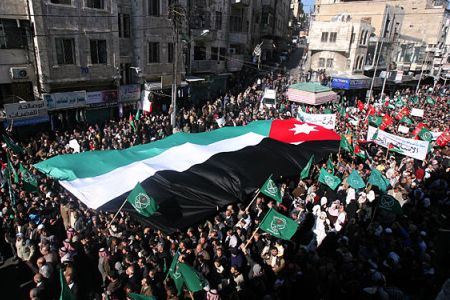 Several young Jordanian protesters have been hospitalized after government loyalists attacked their protest camp in the capital Amman on Friday.
Witnesses say security forces stood by and did not intervene as demonstrators were attacked, AFP reported.
Around 500 students were camping next to Gamal Abdel Nasser Square in the capital when the government loyalist assaulted them on Friday.
At least 35 people were injured when security forces and supporters of King Abdullah II cracked down on the crowd.
Police spokesman Mohamad Khatib claimed he was not aware of any casualties.
At nightfall, police had tried to disperse the crowd by cutting off electricity to the square.
Protesters say they will continue with street protests until their demands are met.
Thursday's protest saw the most violence since the demonstrations began three months ago.
The Jordanian Youth Movement used Facebook to organize the protest camp. The group has now reportedly changed its name to Youth of March 24 to mark the beginning of an open-ended demonstration at the main square.
"Today is the dawning of the Jordanian revolution," said group spokesman Ziad al-Khawaldeh. "We will not move an inch from here until our demands are met," he added.
Jordanians have held protest rallies since January, demanding reforms. They are calling for the dissolution of parliament and constitutional amendments.
Their demands include the ouster of newly-appointed Prime Minister Marouf Bakhit and the prosecution of officials accused of corruption and nepotism.
Jordan's opposition also wants to strip the king of some of his powers, specifically in appointing the prime minister.
Jordan's king, who has already offered a series of concessions to end the protests, has reportedly called for an early election by the end of 2011.