General
Jordanians rally for promised reforms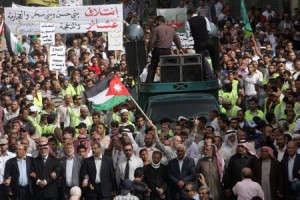 Thousands of Jordanians have taken to the streets across the country to demand reforms only days after the new cabinet was sworn in.
Demonstrators also called for an end to corruption and for the prosecution of dishonest officials. Rallies were reported in several southern cities following the Friday Prayers.
The demonstrations came just four days after Jordan's King Abdullah II swore in a new cabinet, with political reform as its top priority.
On October17, the US and Israel-backed Jordanian King sacked prime minister Maaruf al-Bakhit and replaced him with International Court of Justice judge Awn Khasawneh following months of street protests, demanding al-Bakhit's resignation.
Al-Bakhit's government was accused of corruption and failure to deliver on promised reforms. Awn Khasawneh is the third premier this year to form a government.
Jordan has faced anti-government rallies demanding reforms and an end to corruption since January.
Meanwhile, the Jordanian king has said that he will give the country's lawmakers the authority to appoint cabinet ministers and choose a prime minister. Currently both the prime minister and cabinet are appointed by the king.
The US and Israel-backed king, however, can veto the parliament's choice. If he vetoes, parliament will search for a consensus with the king on an alternative candidate, said the king's adviser Amjad Adaileh on Wednesday.