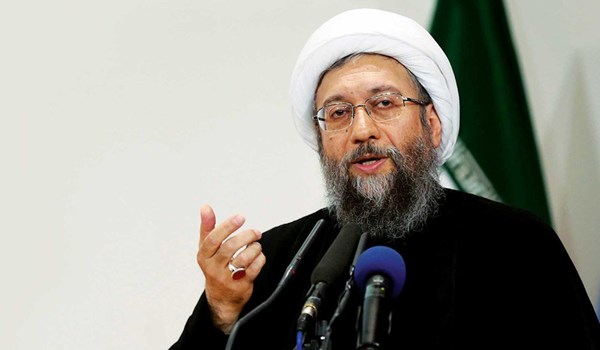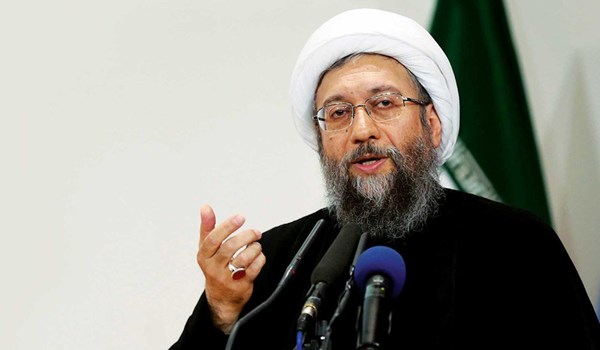 Iran's Judiciary Chief Sadeq Amoli Larijani underscored that the Iranian and other Muslim nations' massive turnout to participate in the International Quds Day rallies thwarts the plots hatched by Washington and Tel Aviv.
"This large participation has an important message to the hegemonic states, specially the Americans and Israelis, who think that they can strengthen the pillars of a fake and child-killer regime by transferring an embassy (the US embassy to Jerusalem al-Quds) and they should understand that their thoughts are void and wrong," Amoli Larijani said on the sidelines of the Quds Day rallies in Tehran on Friday.
"This massive participation of the people indicates that they will not succeed in their plots," he added.
Millions of Iranians from all walks of life took to city streets all over the country to show their full and everlasting support for the oppressed Palestinian nation against Israeli occupation and aggressions, specially its recent massacre of the Palestinians in Gaza.
People in large groups of tens of thousands in Tehran and other cities across the country converged in main city squares on the International Quds Day on Friday to condemn Israeli occupation and its recent massacre of Palestinian demonstrators in the Great March of Return as well as those who were protesting against the US move to transfer its embassy from Tel Aviv to Jerusalem al-Quds.
Recent months have seen a major escalation of violence in Gaza, with more than 120 Palestinians killed by Israeli fire since the end of March, when the Great March of Return demonstrations began.
In Tehran, demonstrators congregated at the University of Tehran, the site of Friday prayers for the past three decades.
Head of the Intifada and Quds Headquarters Brigadier General Ramezan Sharif said on Saturday the International Quds Day rallies would be held in tens of parts and nations of the world on Friday to voice support for the defenseless Palestinian people and condemn the Zionist regime's atrocities.
He also said that nearly 900 Iranian cities would witness popular rallies in support of the defenseless people in Gaza before the Friday prayers ceremonies.
Sharif stated that some 5,300 Iranian and foreign reporters, including 160 foreign photojournalists and reporters, would cover the International Quds Day rallies in Iran on Friday.
The International Quds Day is an annual event opposing Israel's occupation of Beitul-Muqaddas. Anti-Zionist rallies and demonstrations are held on the last Friday of Ramadan in Muslim and Arab countries around the world, specially in Iran, as well as a large number of non-Muslim states.
The International Quds Day was started by the late Founder of the Islamic Republic, Imam Khomeini, in 1979 as a way of expressing solidarity with the Palestinians and underscoring importance of the holy Quds to Muslims.