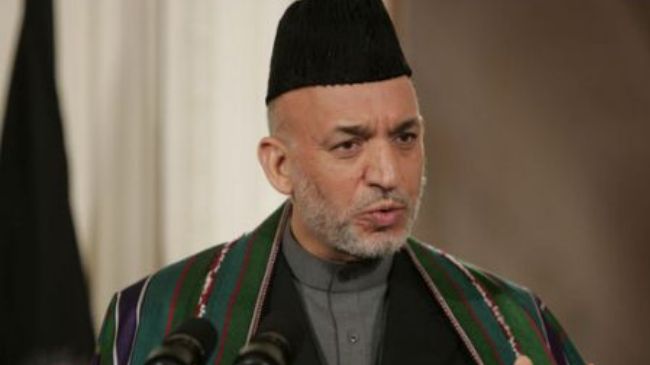 The Afghan president has accused a Pakistan-based militant group of being behind last week's attack on an Indian diplomatic mission in the western city of Herat.
Hamid Karzai said on Monday that Afghan and Western intelligence agencies have found evidence of Lashkar-e-Taiba (LeT)'s involvement in the attack carried out on Friday.
"According to the information that we have — given to us by a Western intelligence agency — the perpetrators were of LeT," Karzai told India's Television Channel Headlines Today.
He made the remarks during a visit to the Indian capital New Delhi to attend the inauguration ceremony of the country's new Prime Minister Narendra Modi.
"The incident is condemned by the Afghan people as it is condemned by the people of India. This was a clear, clear attack by terrorists," Karzai added.
There were no reports of casualties among the Indian staff at the mission, but two Afghan policemen were wounded when the heavily-armed attackers stormed a house close to the consulate.
According to security sources, at least three assailants, armed with machine guns and rocket-propelled grenades, opened fire on the consulate.
The attack was the latest in a long line of assaults against Indian targets in Afghanistan.
In August 2013, nine Afghans, including several children, were killed in a bomb attack on the Indian Consulate in the Afghan city of Jalalabad near the border with Pakistan.
In 2008, a car bomb at the Indian Embassy in Kabul left 60 people dead. The embassy was hit by another attack in 2009.
New Delhi has invested over $2 billion in Afghan projects, including roads and power projects. The country is reportedly considering requests for providing Kabul with military assistance in its battle against Taliban militants.