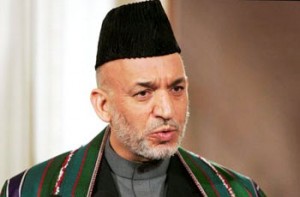 Afghan President Hamid Karzai protests the US military's targeting of civilians after a US raid killed at least eight school children in the east of the war-torn country.
Karzai's office on Monday issued a statement in which it condemned the killings that reportedly took place on Saturday in Kunar province near the border with Pakistan.
"Initial reports indicate that in a series of operations by international forces in Kunar province… 10 civilians, eight of them school students, have been killed," the statement said.
"President Karzai strongly condemns the operation which caused civilian deaths and has appointed a delegation to investigate the incident," it added.
The angry statement comes as Afghan authorities fear a rise in the civilian death toll as investigations are ongoing.
NATO's International Security Assistance Force, also known as ISAF, has reportedly said it had no information on any operations or casualties in Kunar.
But a senior Western military official disclosed that US special forces have been conducting operations in the border regions of Kunar.
"They have been killing a lot of Taliban and capturing a lot of Taliban" during operations conducted independently of NATO and coalition forces, he told AFP on condition of anonymity.
The indiscriminate targeting of civilians prompted Kunar parliamentary representatives to storm out of an important debate on appointments to Karzai's new cabinet in a show of protests.
Ever-increasing civilian deaths in the 8 years of large foreign military presence since the US-led invasion of Afghanistan in 2001 have exhausted people in the war-weary nation.
Earlier in December, Karzai condemned the killing of six civilians during a NATO raid as Washington vowed US troop reinforcements would keep civilian deaths to a minimum. The US and NATO have pledged to send an additional 40,000 forces in Afghanistan for the coming year.