Ashura
Kashmir University hosts seminar on Karbala Martyrs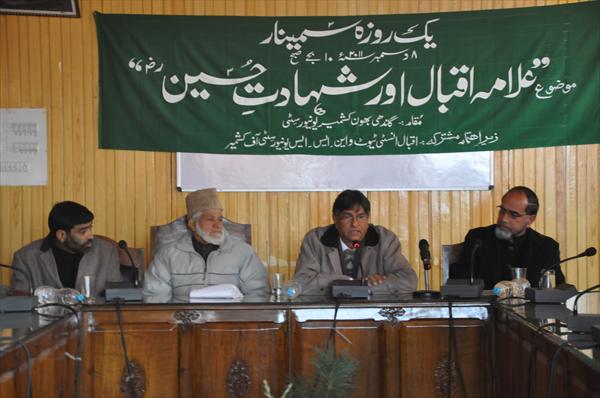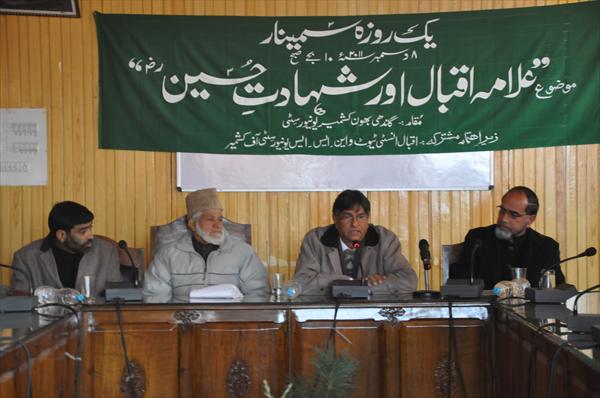 The speakers at a daylong seminar on Dr Sir Muhammad Iqbal and Martyrdom of Imam Hussain (AS) unanimously agreed that Allama was intensely moved by the Karbala tragedy so much so that in many of his couplets, he carried a universal message to the mankind to follow footsteps Hussain AS who sacrificed his life for truth and never compromised with the evil.
Speaking at the occasion, the KU VC Professor Talat Ahmed paid glowing tributes to Karbala Martyrs.
He also hailed the hosting of the seminar, organized by the Iqbal Institute of Culture and Philosophy (IICP), KU in collaboration with the varsity's National Service Scheme (NSS).
"I must appreciate the work done by the IICP as it has worked as one of the important pillars of strength to help university to earn the A Grade in the run up to NAAC Accreditation," the VC said.
He assured Director IICP, Prof Bashir A Nehvi that his administration would work for expansion of IICP and help create more teaching and non-teaching positions in the institute.
"There will be an important component of Iqbaliat in the post graduate degree course in Urdu which KU is shortly to offer in its South Campus" said Prof Talat.
On the occasion, Prof Nehvi described Iqbal as a great lover of Prophet Muhammad (SAW) and his family.
In his address, Dr Syed Majeed Andrabi –Assistant Professor at the Islamic University of Science and Technology (IUST) Awantipora discussed the philosophy of Martyrdom of Imam Hussain (AS) and termed him as real preacher of peace and life with dignity for mankind.
Noted writer and academician, Prof Margoob Banihali who was the Chief Guest on the occasion, said: "We should distinguish right from wrong and advocate freedom of expression as the essence of Islamic philosophy."
Dr Mushtaq A Ganai of IICP presented a paper on Martyrdom of Imam Hussain.
Prof Muhammad Iqbal Hakeem, Director North Campus and Coordinator NSS looked forward to more such events in future.
Others who presented papers at the seminar included Prof Taskeena Fazil, Dr Syed ur Rehman Shams, Dr Iqbal Qureishi from IUST and Salik Bilal.
Present on the occasion were senior officers of the University and faculty members including Prof Nazir A Malik, Dean Faculty of Arts, Prof S Mufeed Ahmad, Dr Nasir Mirza, MERC, Prof Majeed Muzmar, Head Department of Urdu besides others.
Sultan ul Haq Shahidi, prominent poet and research scholar of IICP and Faheem Muhammad Ramzan recited a few couplets from their own works on the theme. The vote of thanks was made by Tariq Abdullah, Program Officer, NSS.