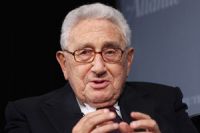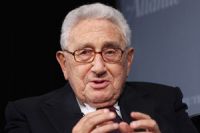 Former U.S. secretary of state Henry Kissinger says the American media are not telling the truth about the current situation in Syria.
He said during a speech at the Ford School of Public Policy at the University of Michigan: "In the American press it's described as a conflict between democracy and a dictator- and the dictator is killing his own people, and we've got to punish him. But that's not what's going on."
Kissinger added: "It is now a civil war between sectarian groups."
Kissinger's remarks come as the United States has been criticized for fomenting sectarian discord in Syria and the broader Middle East by interfering in the nations' internal affairs and backing up insurgencies.
U.S. President Barack Obama has authorized sending weapons to foreign-backed militants in Syria, further escalating the conflict in the Arab country.
The White House earlier accused the Syrian government of using chemical weapons against the militants, an allegation denied by Damascus.
Obama's policies regarding Syria have been attacked by some American politicians.
Former Congressman Ron Paul said the Obama administration was "escalating" the war in Syria by sending weapons to the militants.