Syria
Ladsous.. Finding political solution to the Crisis in Syria through process led by the Syrians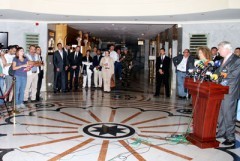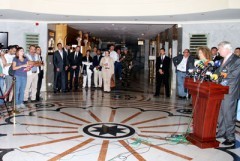 United Nations Under-Secretary-General for Peacekeeping Operations Hervé Ladsous announced the UN Observer Mission's commitment to carrying out the Security Council Resolution No. 2059 which extended the mandate of the International Monitors' Mission UNSMIS for 30 days.
"The UN, and particularly the UNSMIS under its new leadership, headed by General Babacar Gaye are committed to carrying out the Security Council decision.. as you know, it is a short mandate to re-evaluate the situation at the end of August," Ladsous said at a press conference in Damascus following two-day meetings with officials from the Syrian government and figures from the opposition.
He clarified that when the situation improves, members of the Mission who left to their countries will return to their tasks.
Ladsous said that the aim of the UN is to contribute to stopping the violence, calling on all sides to exert efforts to put an end to violence and help apply the six-point plan of the UN Envoy to Syria Kofi Annan.
"One of the tasks of UNSMIS is to contribute to facilitating resumption of dialogue, particularly in specified local circumstances, and to put a vision that could help find a peaceful solution to the crisis in Syria, led by the Syrians themselves," Ladsous concluded.