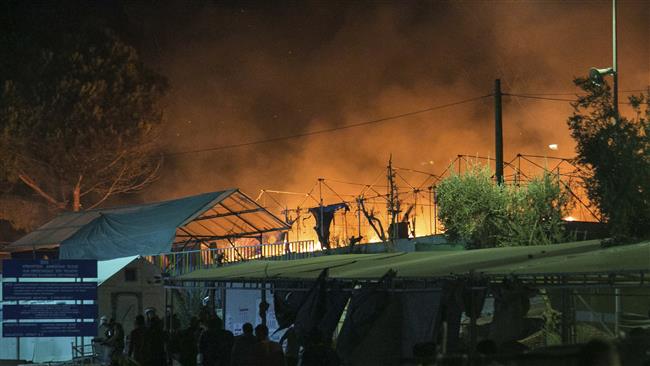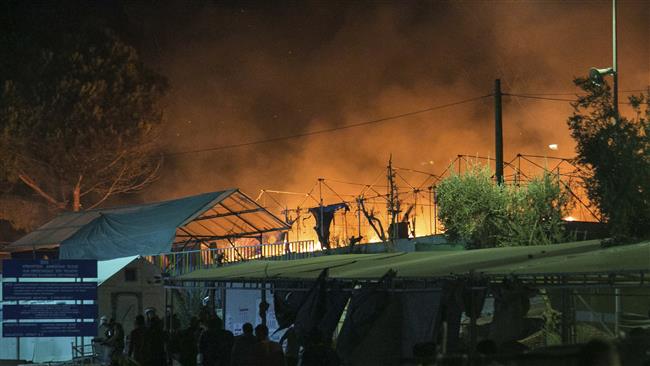 Thousands of refugees have been forced to flee after a large fire erupted at their camp on the Greek island of Lesbos.
A police source in Athens said the blaze, which broke out on Monday, left the tents of Moria camp "almost entirely destroyed" and damaged containers that provide additional accommodation as well as health and registration services.
"Between 3,000 and 4,000" refugees fled Moria to the surrounding fields, the source added.
No casualties were reported in the fire which was fanned by strong winds, according to the source.
The officer added that nearly 150 minors housed at the camp were evacuated to a children's village on Lesbos.
Police say the fire has been deliberately set by those living there.
Firefighters were initially prevented from extinguishing the fire by clashes that erupted among rival nationalities in the camp.
However, the blaze was later brought under control.
Earlier on Monday, tensions ignited in the camp after the spread of rumors that the refugees were to be deported en masse to Turkey, state news agency ANA said.
In March, the European Union and Turkey reached a deal to cope with the influx of refugees into Europe. Under the deal, new arrivals on Greek islands after March 20 face deportation to Turkey unless they successfully apply for asylum in Greece.
The refugee camp fire erupted after two other blazes in the olive groves near Moria were put out.
The Monday incident came as world leaders from the 193 member states took part in the first-ever summit in New York on Addressing Large Movements of Refugees and Migrants.
During the event, they adopted a plan aimed at giving a more coordinated and humane response to the refugee crisis, pledging efforts to address the plight of millions of refugees across the world.
At the summit, Greek Prime Minister Alexis Tsipras warned that a failure to confront the refugee crisis would lead to the rise of xenophobia.
"If we fail to support this, the political repercussions will be felt not only in Greece but everywhere," he said.
On Tuesday, a follow-up summit is also slated to be held at the request of US President Barack Obama, with at least 45 world leaders expected to be in attendance.
More than 60,000 refugees are currently in Greece, most of them seeking to reach Germany and other wealthy European countries. But their journey is now facing difficulties as several eastern European and Balkan states closed their borders earlier this year.
Europe is facing an unprecedented influx of refugees, who are fleeing conflict-ridden zones in Africa and the Middle East, particularly Syria.
Many blame major European powers for the unprecedented exodus, saying their policies have led to a surge in terrorism and war in those regions, forcing more people to flee their homes.