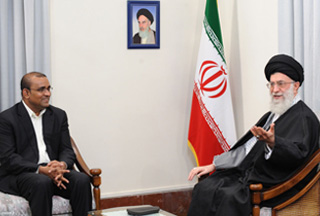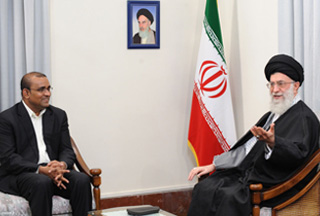 The Leader of Ummah stresses that the "greatest injustice to the international community is the dominance (sought) by powerful countries… and (their effort in) dividing nations into oppressive ones and submissive ones."
Imam Ali Khamenei made the remarks in a Thursday meeting with Guyana's President Bharrat Jagdeo in Tehran. "That is why the policy of the Islamic Republic of Iran has always been based on opposing the order of domination," he noted.
The Leader emphasized, "Those nations that reject (foreign) domination and do exercise dominance are our friends, regardless of their race or language."
Imam Ali Khamenei praised the people of Latin American nations for choosing politicians who seek independence from the western world.
He also said that Iran is willing to transfer its expertise in different fields to all friendly nations.
The Muslim community of Guyana and its membership in the Organization of the Islamic Conference (OIC) are other potential areas of cooperation between Iran and Guyana, the Leader added.
During the meeting, Imam Ali Khamenei also expressed sympathy for the quake-hit Haitian nation.
The Guyanese president, for his part, welcomed Iran's active diplomacy in the Caribbean and Latin American countries.
Jagdeo expressed his country's willingness to use Iran's experience in different fields.
He added that Guyana possesses an independent policy despite its geographical proximity to the United states and it is ready to use Iran's experiences in all fields.