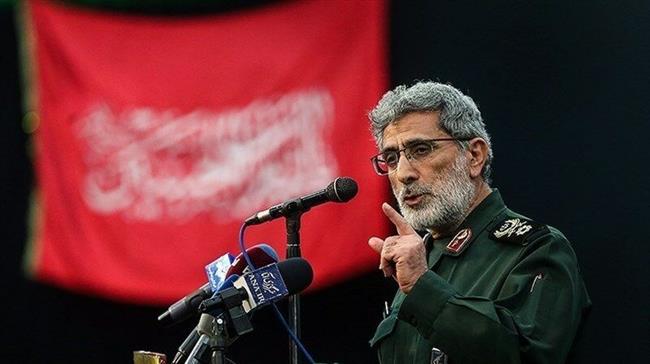 "Following the martyrdom of the glorious general Qasem Soleimani, I name Brigadier General Esmail Qaani as the commander of the Quds Force of the Islamic Revolution Guards Corps," the Leader said in a statement posted on his official website.
In the statement, the Leader described Gen. Qaani as one of the IRGC's most prominent commanders during Saddam's imposed war on Iran, which lasted eight years starting in 1980.
Iran Leader vows 'harsh revenge' following assassination of Gen. Soleimani Leader of the Islamic Revolution Ayatollah Seyyed Ali Khamenei says a harsh revenge will be taken against the criminals who assassinated IRGC Quds Force Commander Major General Qassem Soleimani.
Esmail Qaani was serving as the Quds force's deputy commander prior to the new appointment on Friday.
The IRGC confirmed earlier on Friday that Gen. Soleimani had been assassinated in US airstrikes in Baghdad.
Commander of Iran's Quds Force, PMU deputy head martyred in US strikeThe director of public relations of pro-government Hashd al-Sha'abi forces has been killed after three Katyusha rockets fell on Baghdad International Airport.
The attack also led to the death of Abu Mahdi al-Muhandis, the second-in-command of Iraq's Popular Mobilization Units (PMU).