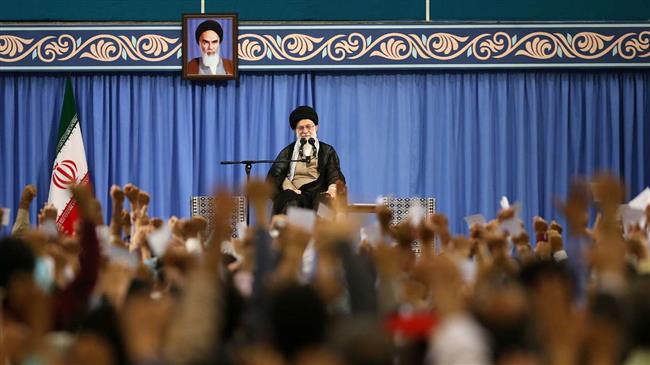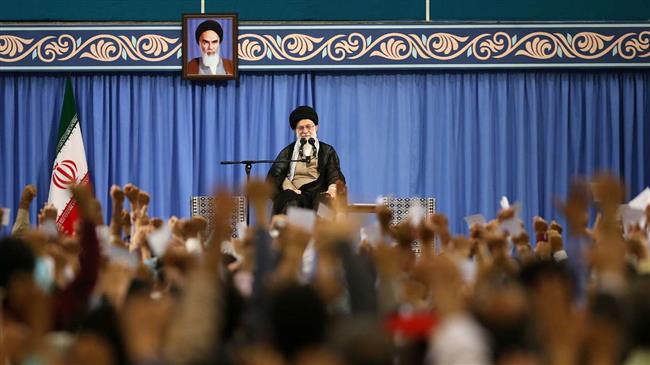 Leader of Islamic Ummah and Oppressed Imam Ayatollah Khamenei says the Islamic Republic will not enter into new negotiations with the United States due to cheating and bullying nature of its government.
Speaking in a meeting with a large group of Iranian people in Tehran on Monday, Ayatollah Khamenei dismissed talks with the US after President Trump called for direct negotiations with Tehran, saying Washington is only after concessions.
In a clear reference to US President Donald Trump's withdrawal from a landmark nuclear deal with Iran, called the Joint Comprehensive Plan of Action (JCPOA), the Leader said, "Why should we sit for negotiations with a bullying [and] cheating regime, which negotiates like this?"
Trump pulled the US out of the Iran nuclear agreement in May, and said that he plans to reinstate US nuclear sanctions on Iran and impose "the highest level" of economic bans on the Islamic Republic.
Under the deal, Iran undertook to put limits on its nuclear program in exchange for the removal of nuclear-related sanctions imposed against Tehran.
Elaborating on Trump's offer of direct talks with Iranian officials, Ayatollah Khamenei said, "Of course, they act upon a threadbare and worthless political game in this regard; one of them says [they want negotiations with Iran] without any preconditions, the other one sets preconditions."
"Unlike what some people may think in the country, Americans' request for negotiations is nothing new and has been repeated many times during the past 40 years, but has been met with Iran's negative answer. Even then American president, Reagan, who was more powerful than the current ones, in the famous case of McFarlane, sent him secretly to Tehran for negotiations, but he returned without any results 24 hours later."
"They have a special formula for negotiations, which must be understood and then this question must be answered that will any wise person enter into negotiations according to this formula?" Ayatollah Khamenei noted.
The Leader said "give and take" is the reality of negotiations in customary politics, adding, "Banking on their political, propaganda and financial power, Americans try in every negotiation to thwart any resistance that may prevent realization of their goals."
"They firstly clearly set their main goals. Of course, they do not declare all those goals during negotiations, but pursue [realization of] all of them through bargaining during talks. The second point is that Americans do not take one step back from these main goals."
The Leader noted, "During negotiations, Americans only give promises using apparently assuring words, but want real concessions from the opposite side and do not accept promises."
"We experienced this reality in [the case of] the Joint Comprehensive Plan of Action (JCPOA), and Americans resorted to the same method in negotiations with North Korea."
"In any negotiations, if he opposite side refrains from giving real concessions, Americans will launch such a propaganda and media rancor in the world that the other side feels at loss and becomes passive," Ayatollah Khamenei added.
Noting that according to the American formula, they give promises during negotiations and breach them afterwards, the Leader mentioned the JCPOA as an example of the result of negotiations with America, adding, "Of course, some red lines, which had been set [by the Leader] were not observed in those [negotiations]."
Ayatollah Seyyed Ali Khamenei further stated, "We can only embark on the dangerous game of negotiating with America after we reach the economic and political and cultural power that we have in mind so that its pressures and ballyhoo would not be able to affect us. However, at the present time, negotiations [with the United States] will be certainly to our detriment and is forbidden."
Elsewhere in his remarks, the Leader touched on the country's current economic problems, noting that while foreign sanctions hurt Iran's economy, most of the country's economic problems are the result of internal mismanagement.
"Economic experts and many officials believe the cause of this issue is not foreign, it's internal. Not that sanctions do not have an impact, but the major impact is related to performances," the Leader told ordinary Iranians at a meeting in Tehran Monday.
Iran's national currency has lost much of its value since the beginning of the year, especially after US President Donald Trump abandoned a nuclear deal with Tehran and announced new sanctions on the Islamic Republic.
"All people feel livelihood problems today. A section of the people is really under the pressure and the high prices of food, housing and other things are pressuring them," Ayatollah Khamenei said.
"The devaluation of the national currency is one of the current economic problems. When the price of the rial comes down, it is the daily-paid employee who ends up with nothing left," the Leader added.
Iranians are bracing for new US sanctions, the first wave of which was unleashed by Trump last week, targeting Iran's financial, automotive, aviation and metals sectors.
The US president also pledged that the second wave will "ratchet up to yet another level" on November 4, hitting Iran's oil and gas and banking sectors.
Ayatollah Khamenei said, "If the actions [by government officials] are better, more prudent and timely and stronger, the sanctions will not have much effect."
The Leader touched on the turmoil in the foreign exchange and gold coins market, calling it the result of "imprudence and neglect" by certain officials who caused government dollars to end up in the hands of manipulators.
"This problem is related to management and executive policies," Ayatollah Khamenei said.
"When they distribute foreign currencies and coins in the wrong way, this distribution has two sides: one who takes it and one who gives it. We are all after the one who takes it, while the main fault rests with the one who gives it. We do not call it treason, but it is a big mistake," the Leader said.
Rial's devaluation has presented the government of President Hassan Rouhani with possibly the most serious quandary.
The national currency strengthened 13.72% against the dollar at 109,000 after hitting the record low of more than 120,000 on the unofficial market on Monday.
In April, the government lowered the official value of the rial versus the dollar in order to stamp out the free currency market, unifying official and free-market rates at a single value of 42,000 to the dollar.
However, the strategy badly backfired as it generated an underground network of forex sellers who stoked further depreciation of the national currency.
A sharp rial drop resulted in a jump in inflation rates as consumer prices grew. It also prompted a registration flurry of new companies which had access to government dollars at concessionary prices.
Those new companies started importing high-demand commodities with dollars at a rate of 42,000 rials and selling them at inflated prices for profit.
On Sunday, the Judiciary said Iranian authorities have arrested 67 people in a drive against financial crime.
Special courts are being set up to try suspects quickly after Ayatollah Khamenei agreed with a request by Judiciary chief Ayatollah Sadeq Amoli Larijani to swiftly deal with financial criminals.
Leader of the Islamic Revolution Ayatollah Seyyed Ali Khamenei has agreed to a request by Iran's judiciary chief to "swiftly and fairly" deal with financial criminals.
Ayatollah Khamenei said on Monday the judiciary chief's request is "an important positive step to tackle corruption and those involved in economic corruption."
"I wrote a letter to the leaders of the three branches of powers several years ago and told them that corruption is a seven-headed dragon that must be fully confronted. Let me tell you, anyone involved in corruption will be firmly dealt with without any leniency."
Ayatollah Khamenei, however, reminded that the campaign should be carried out justly without political noise.
"Some are saying extreme things and claim that all are corrupt and use such descriptions as systematic corruption; that's not the case. True, even minor corruption is too much but extremism is wrong in all fields."
The Leader also dismissed talks with the US after President Trump called for direct negotiations with Tehran, saying Washington is only after concessions.