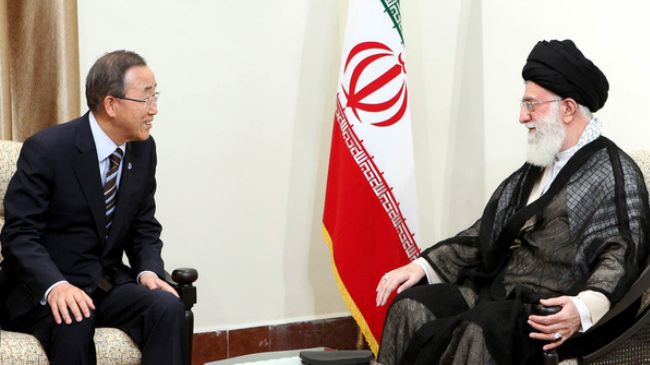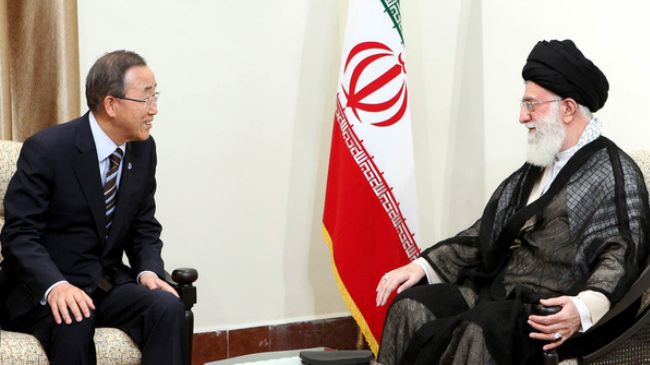 Leader of the Islamic Ummah and Oppressed People Ayatollah Seyyed Ali Khamenei has called on the United Nations to assume a more decisive role in creating a nuclear-free Middle East.
During a meeting with UN Secretary General Ban Ki-moon and his accompanying delegation in Tehran on Wednesday, Ayatollah Khamenei pointed to nuclear disarmament as the common concern for the entire humanity.
He added, "The Islamic Republic of Iran reiterates its stance on a Middle East free of nuclear weapons, and the UN should make serious efforts to allay the concerns with regard to nuclear arms."
The Leader warned about the continued attempts made by the United States and some world powers to equip Israel with more nuclear weapons, noting that the issue "constitutes an extreme danger for the region and the UN is expected to adopt measures in this respect."
Elsewhere in his remarks, the Leader criticized the "defective structure" of the UN and regretted how "the world most bullying powers, who possess nuclear weapons and have used them before, have dominated the Security Council."
Ayatollah Khamenei referred to the US-engineered allegations against Iran's nuclear energy program and stated, "The Americans are fully aware that Iran does not seek nuclear weapons and [they are] merely looking for a pretext."
The Leader condemned US and Israeli attempts to launch cyber attacks against Iran's nuclear facilities and criticized the IAEA over its inaction with regard to such aggressive measures.
Ayatollah Khamenei also censured United Nations for its inaction toward the US military threats against Iran, reminding that the world body "was expected to promptly counter the threat."
Referring to the Syrian unrest, the Leader described the crisis as a "very bitter issue" which has been taking a heavy toll on the "innocent people of the country."
"Based on its religious teachings and beliefs, the Islamic Republic of Iran is ready to make every effort to solve the Syrian crisis," the Leader added.
Ayatollah Khamenei deplored the arming of the Syrian insurgents by foreign elements and perpetuation of a "proxy war" against the Syrian government by certain countries as the major obstacle in the way of settling the Syrian crisis.
The UN secretary general, who is in Iran on a two-day visit to attend the 16th summit of the Non-Aligned Movement (NAM) in Tehran, congratulated Iran on assuming the rotational presidency of the NAM and hailed Tehran's key role in the region.
He also expressed concern over Tehran's nuclear issue and called on Tehran to offer more cooperation with the IAEA and the P5+1– permanent members of the UN Security Council plus Germany.